School in Spain, Language Schools Host Conference Abroad
MADRID – Students, faculty, alumni, and invited guests gathered at the Residencia de Estudiantes here on February 14 for a conference concerning the intellectual history of Middlebury's summer Spanish School, which was founded in Vermont in 1917.
The director of the Residencia, Alicia Gómez-Navarro, opened the conference, and Roberto Véguez, Middlebury professor emeritus of Spanish, gave a brief history of the connection between the Residencia de Estudiantes and the Spanish School at Middlebury.
Véguez discussed the Spanish School's long line of faculty members from Spain and Latin America including Gabriela Mistral, Octavio Paz, and many members of the Generación de 27 that had previously lived in the Residencia. Those luminaries included Pedro Salinas, Jorge Guillén, and the García Lorca family.
Other panelists at the conference were: Laura García Lorca, president of the Federico García Lorca Foundation; Elvira Lindo, writer and journalist, and columnist for El País newspaper; Manuel Rodríguez Rivero, editor, writer, and cultural commentator; Jacobo Sefamí, director of the Spanish School and professor at University of California, Irvine; and Darío Villanueva, director of the Real Academia Española.
Each panelist shared memories of his or her experiences at the Spanish School in Vermont, which will celebrate its 100th anniversary this coming summer.
The conference was attended by about 150 people including alumni of Middlebury College, the Spanish School, and the School in Spain. Following the presentation, beverages and tapas were served and guests mingled for about an hour.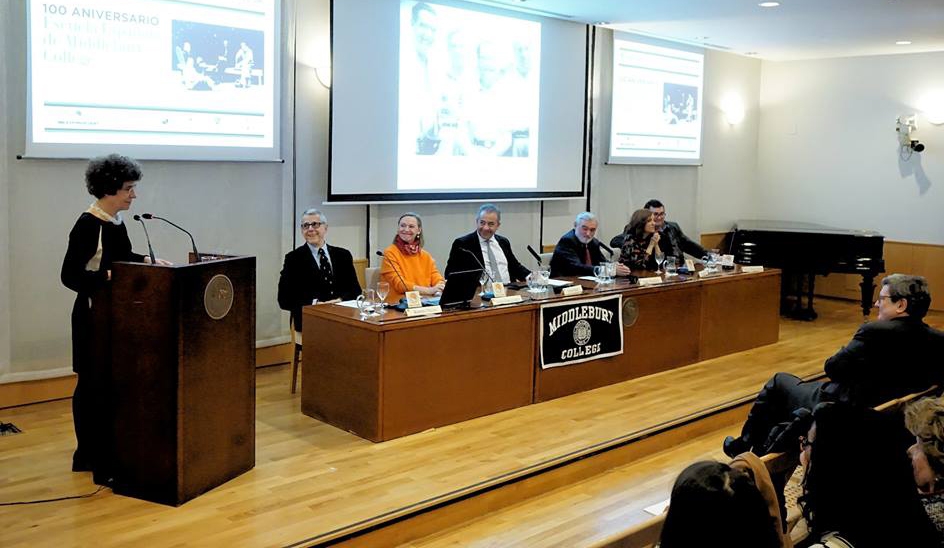 Alicia Gómez-Navarro opened the conference for panelists (seated l. to r.): Roberto Véguez, Laura García Lorca, Jacobo Sefamí, Darío Villanueva, Elvira Lindo, and Manuel Rodríguez Rivero. (Photo by Aída Rodríguez Martínez)
For More Information