While You Were Away: A Summer News Recap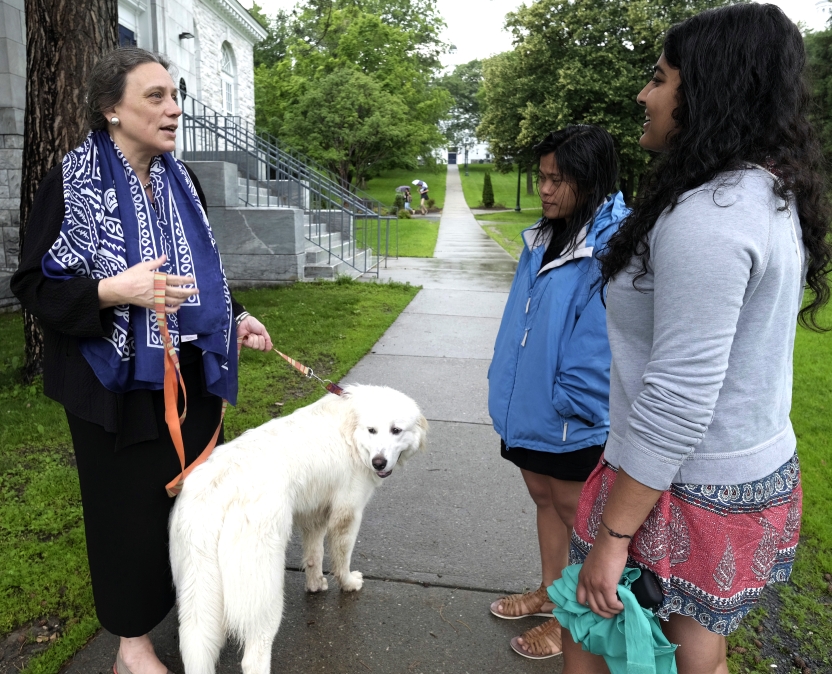 MIDDLEBURY, Vt. – Over the summer at Middlebury, the usual busy pace picked up even more steam with special events, new faces, and facilities upgrades. The main campus transformed, as always, with the energy of the Language Schools, while at the Bread Loaf School of English campuses in Ripton, Santa Fe, and Oxford, students were working toward their master's degrees.
For those who were away from campus for the past few months, here are some additional highlights from our summer news coverage:
Laurie L. Patton began her first official day as Middlebury's 17th president on July 1. Her busy schedule included meetings with faculty and staff members, a walking tour of campus with her husband Professor Shalom Goldman and their two dogs, Suka and Padma, and presiding at the opening convocation of the Language Schools.
Middlebury Language Schools celebrated 100 years of language learning in July, hosting a week of events that included an academic conference on the future of language learning and numerous musical performances by Language Schools alumni.
In a new Summer Study program, students took 4-week travel courses that immersed them in the natural and cultural landscapes of Alaska and Ethiopia. The Alaska course, taught by Professor Matthew Dickerson and Dr. David O'Hara '91, focused on nature writing. Professor Claudia Cooper's course in Ethiopia explored development and aid work.
Middlebury hired Amy Collier, formerly of Stanford University, as associate provost for digital learning. Collier will work to translate Middlebury's strengths into the digital world and build on several of the school's recent digital initiatives.
The Middlebury heating and cooling plant completed an essential step toward carbon neutrality this summer. In preparation for the eventual use of biomethane gas generated from local dairy farms, the College completed a retrofitting process that will allow it to burn a diverse range of fuels, including biomass, natural gas, and oil.
During the Middlebury Language Schools session, President Laurie Patton awarded several honorary degrees, including one to Marna Whittington, chair of the Middlebury board of trustees, and former Middlebury president, Ron Liebowitz.
The Middlebury Institute of International Studies at Monterey celebrated the 60th anniversary of its founding this past June. The Institute was founded in 1955 by language educator Gaspard Weiss, who envisioned a graduate program to promote international understanding through the study of language and culture.