Town of Middlebury Is Finalist for $150,000 Rink Upgrade, NHL Pre-Season Game
MIDDLEBURY, Vt. – The Town of Middlebury is one of four finalists for a $150,000 prize from Kraft Foods that accompanies the designation of "Hockeyville" and the right to host a National Hockey League pre-season game later this year.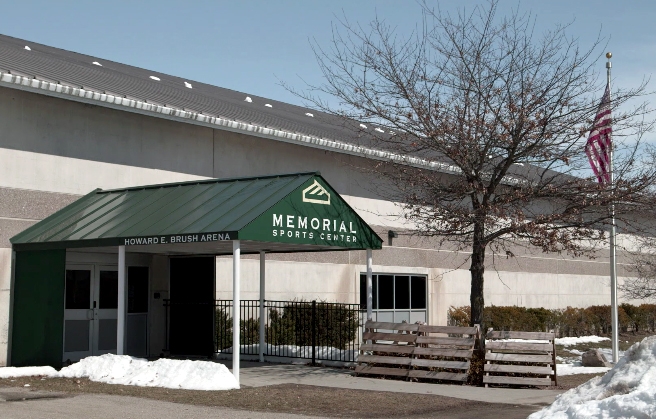 Prize money will go toward improvements to the town's Memorial Sports Center.
The contest will be decided by online voting from 12:01 a.m. on Friday, April 13, through 11 a.m. on Saturday, April 14, at www.krafthockeyville.com. The three other finalists are Clinton, N.Y., Brandon, S.D., and Shreveport, La.
Middlebury's entry in the contest was developed by the Friends of Middlebury Hockey – the local organization that supports youth and adult ice hockey played at the town's Memorial Sports Center. If Middlebury wins, the prize money will go toward rink improvements.
Middlebury College faculty members Frank Swenton (mathematics) and Florence Feiereisen (German) are passionate about ice hockey in this community and are urging others to log on and vote in support of the town rink. If Middlebury wins, plans call for finishing the second floor of the arena. (First prize is $150,000 in rink upgrades; second prize is $30,000; and both third and fourth prizes are $10,000 each.)
In the town's application, the Friends of Middlebury Hockey said, "Our youth programs are thriving; when people interact with one another, friendships form and community is created.
"The special thing about us is that our ice rink is an integral part of our town's culture: from daycare centers to the local high school, people from all across town use the rink; professors, lawyers, contractors, social workers, and farmers play hockey together; grandmothers skate with their grandchildren; instead of organizing bake sales, yearly tournaments take place to raise money to support schools."
Sponsored by Kraft Foods, the contest is endorsed by the National Hockey League and the NHL Players' Association.