SGA Presents 2018 Faculty and Staff Appreciation Awards
MIDDLEBURY, Vt. – The Student Government Association (SGA) honored three faculty members, including one posthumously, and two staff members for their service to students at an awards reception on May 9 in the Crossroads Café.
Jin Sohn '18, the president of the SGA, spoke about each of the recipients and made the presentations on behalf of the student body.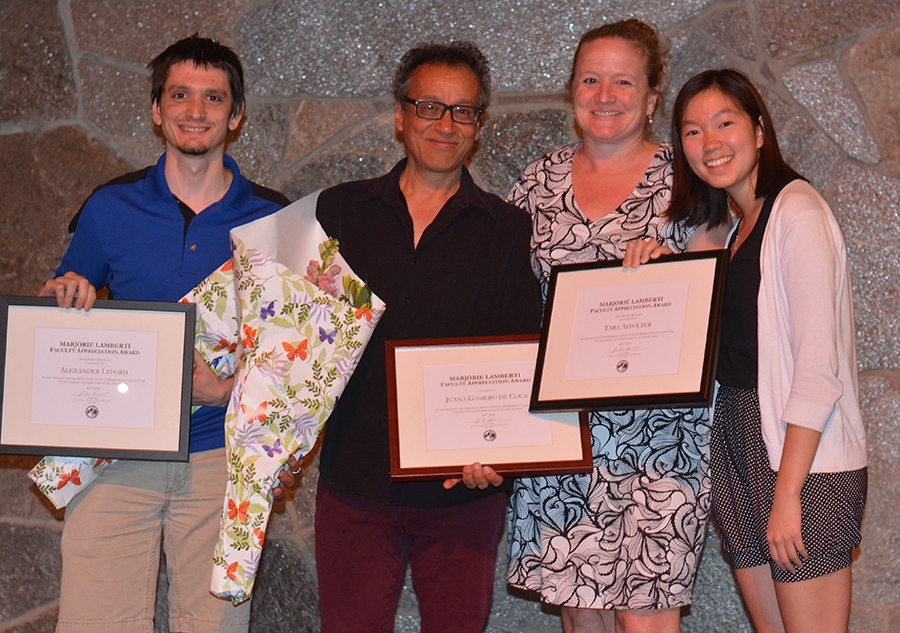 Faculty members (from left) Alexander Lyford, Ricardo Chávez Casteñada, and Tara Affolter with SGA President Jin Sohn '18.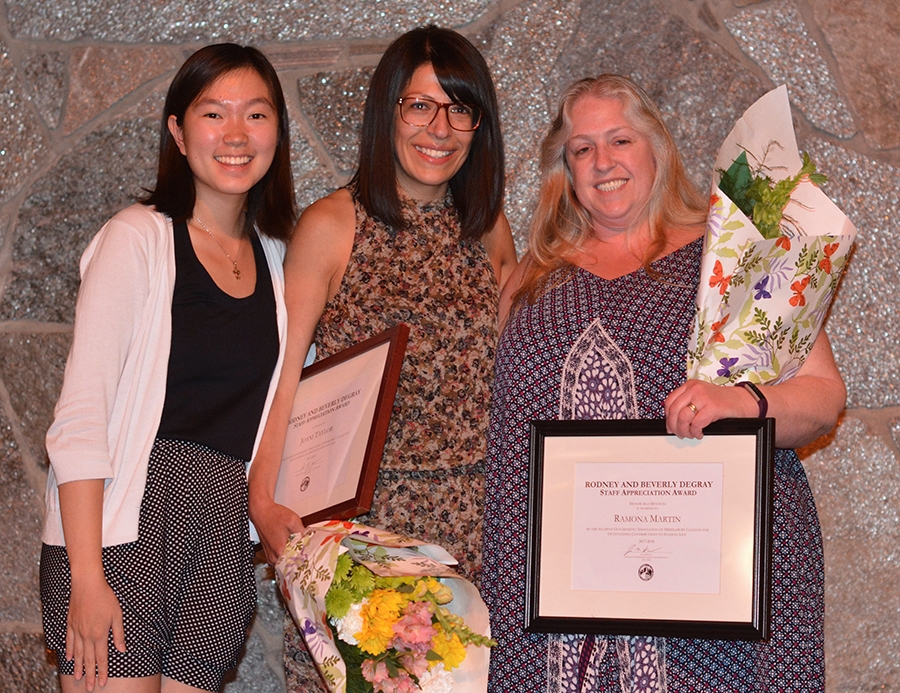 Jin Sohn '18, Joani Taylor, and Ramona Martin. (Click on image to enlarge.)
The SGA, in partnership with the dean of the faculty, selected the late Associate Professor of Spanish Juana Gamero de Coca as the recipient of the 2018 Marjorie Lamberti Faculty Appreciation Award. Said one student nominator about Gamero de Coca, who died unexpectedly in October 2017: "Besides being a phenomenal professor who set clear expectations and allowed students to learn and grow at their own pace, she was easy to talk to, approachable, and incredibly caring."
Lecturer Ricardo Chávez Casteñada accepted the award on Gamero de Coca's behalf and delivered heartfelt remarks in Spanish while Professor Gloria González Zentano translated in English. He said, in part: "Janita…although you have died, you are here. You have become insight and awareness, knowledge and wisdom, like a sage of intuition, a shooting star that has crossed the intellectual horizons of so many students. You have left your mark on their academic hearts."
Two runners-up for the 2018 Lamberti Award were also recognized: Assistant Professor Tara Affolter of the Education Studies Program and Assistant Professor Alexander Lyford of the Mathematics Department.
The award is presented by the SGA in honor of Marjorie Lamberti, the Charles A. Dana Professor Emerita of History, who taught from 1964 to 2002 and was the second woman at Middlebury to be appointed full professor.
The SGA also selected Joani N. Taylor, an advisor in the Office of International Student and Scholar Services (ISSS), as the recipient of the 2018 Beverly and Rodney DeGray Staff Appreciation Award. Taylor's nominators cited her as an "indispensable" mentor to the International Students Organization, for having a "long-lasting positive impact on the lives of international students," for possessing "a neverending stream of energy for international students," and for being "always fully engaged in her job."
Ramona Martin, the dining hall checker in Ross Commons, was named runner-up for the staff appreciation award.
The staff appreciation award honors former staff members Beverly and Rodney DeGray, who worked tirelessly for Middlebury College for decades. The award is given to a staff member who goes above and beyond their role for the betterment of Middlebury students.