College Observatory Posts a New Gallery of Astrophotographs
MIDDLEBURY, Vt. – The Mittelman Observatory at Middlebury College has posted on its website 24 breathtaking photographs of the universe, including images of the Pinwheel Galaxy, the Pleiades, and the Crescent Nebula.
The photographs were taken by the late David Mittelman, a member of the Class of 1976 and a former Middlebury trustee, who was devoted to making astronomy more accessible to Middlebury undergraduates and to the public at large.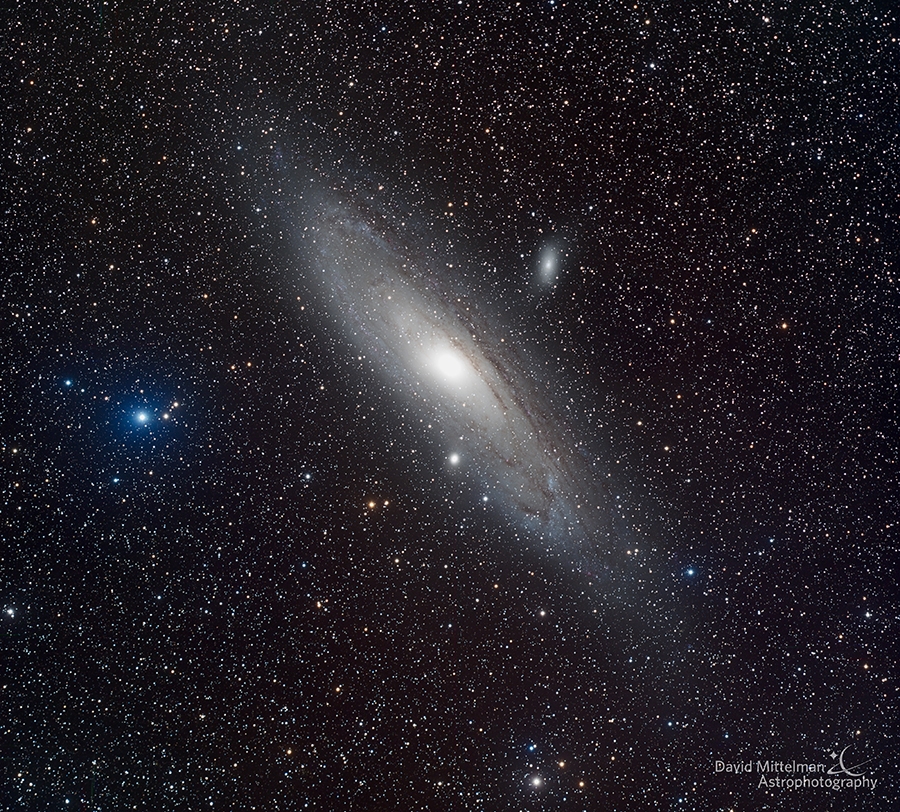 The Andromeda Galaxy photographed by David Mittelman. (Click on image to enlarge.)
Mittelman undertook ambitious imaging projects such as surveying the night sky in the deep-red light of hydrogen alpha, a technique that reveals the rich tapestry of glowing hydrogen gas spread throughout the Milky Way galaxy. He also applied new technologies to photographing areas of the sky covered by historic surveys, allowing broader wavelength coverage and adding enhanced sensitivity.
The website containing Mittelman's photographs was launched on May 23, 2018—one year to the day after his passing in 2017.
In recognition of his astronomical activities, the International Astronomical Union honored David Mittelman by naming asteroid 16779 "Mittelman" in 2017. Considered a minor planet, Mittelman circles the Sun between the orbits of Mars and Jupiter.
The Mittelman family endowed the Frank Winkler Professorship at Middlebury College, and in 2018 the observatory atop McCardell Bicentennial Hall was named in honor of Mittelman's generosity to the College.