Mike Hussey Named Director of Snow Bowl and Rikert Nordic Center
MIDDLEBURY, VT. – Middlebury College has named Michael P. Hussey, the director of the Rikert Nordic Center since 2010, to a new position in which he is responsible for both the Nordic center and the Middlebury Snow Bowl.
As the director of skiing, Hussey has expanded his portfolio to now include the majority of the duties previously handled by Peter Mackey '74, the longtime general manager of the Snow Bowl who retired in July 2018 after 40 years of service to his alma mater.
Hussey, 55, a longtime resident of Ripton and an avid skier, moved the Rikert Nordic Center to the forefront of Vermont's cross-country ski industry with the 2013 installation of five kilometers of snowmaking, the creation of an FIS-certified race course, the addition of more terrain for skiing, the hosting of the 2013 NCAA championship, and the welcoming of snowshoeing and fat-tire cycling enthusiasts to the Bread Loaf Mountain site. In addition, all of Rikert's instructors are now PSIA-certified to teach cross-country skiing, and the Nordic ski lodge is expanded and much improved.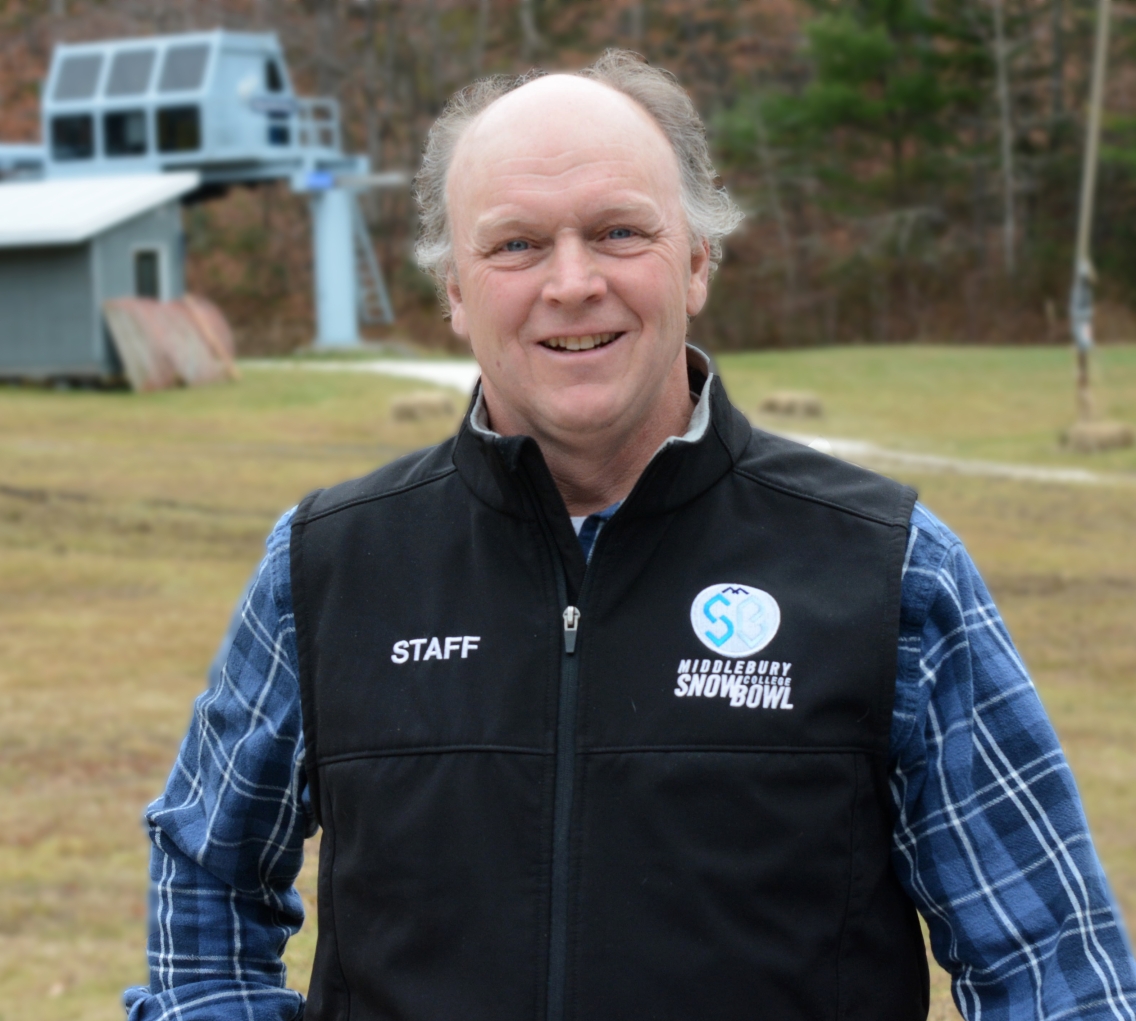 Whereas the Nordic center had been averaging "about 75 inconsistent days" of cross-country skiing per year leading up to his eight-year tenure as director, the facility now averages "about 140 days of continuous operation" per year, due largely to the advent of snowmaking on the mountain and the expansion of its facilities.
Hussey also stepped up the Nordic Center's marketing and promotional efforts in partnership with the Snow Bowl and the Addison County Chamber of Commerce. "We see great potential for Addison County to become a winter resort destination," he said. "We have Rikert Nordic Center and the Snow Bowl; we have an authentic town with great B&Bs, hotels, and restaurants; we have the arts, museums, and Town Hall Theater; we have the College and its hockey and basketball games—so all that's a huge attraction here to visitors from out of town."
Located just two miles apart, "our two ski areas are something that people really want," Hussey added. "We offer skiing like it used to be: local, accessible, and family friendly. Rikert and the Snow Bowl are these two gems that skiers can really get their arms around and embrace."
The College has already begun "a fairly substantial upgrade" to the Snow Bowl's snowmaking capacity by replacing diesel compressors with electric compressors, and by adding 48 "new and highly efficient" snow guns on the trails. Hussey is also creating a combined pass that will enable skiers to enjoy both the Nordic and alpine ski areas.
A 1987 graduate of the University of New Hampshire, Hussey captained UNH's Nordic ski team, earned All-American honors in 1985, and was a member of the U.S. ski team's Nordic development team. He was the Eastern sales manager for Snow Economics, Inc., a leader in snowmaking technology, for 16 years prior to his appointment as director of Rikert Nordic Center.
For More Information