Theatre Program Presents "Men on Boats"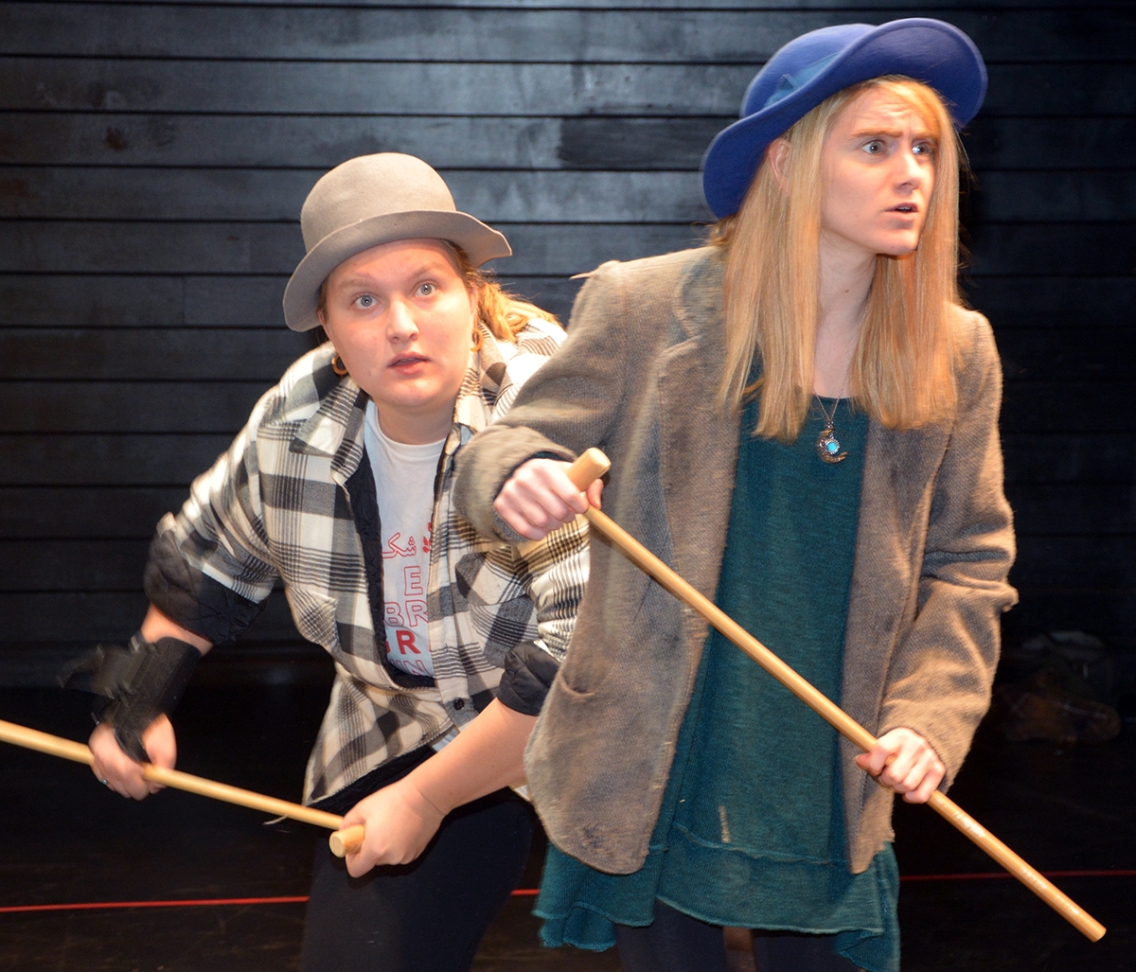 Toria Isquith '19, left, and Kaitlynd Collins '19 in a scene from the theatre department's production of the play Men on Boats, directed by Professor Cheryl Faraone.
Middlebury, VT—The Middlebury College Department of Theatre and Dance will present "Men on Boats," directed by Cheryl Faraone and with movement direction by Peter B. Schmitz November 30-December 2, 2018. Ten explorers. Four boats. One Grand Canyon. This play by Jaclyn Backhaus is the true(ish) history of an 1869 expedition, when a one-armed captain and a crew of insane yet loyal volunteers set out to chart the course of the Colorado River (and in 2018, it's women in the boats).
Jaclyn Backhaus is a playwright and co-founder of Fresh Ground Pepper. Men on Boats was a 2016 NYT Critics' Pick (Off-Broadway, Clubbed Thumb and Playwrights Horizons) after starting in Clubbed Thumb's Summerworks. Other works include People Doing Math Live!, The Incredible Fox Sisters, You on the Moors Now and the musical Folk Wandering. She has received commissions from Playwrights Horizons and Ars Nova and is the 2016 Tow Foundation Playwright-in-Residence at Clubbed Thumb.
Based on the journals of John Wesley Powell, who led an 1869 geological expedition down the Green and Colorado Rivers into the (then) great unknown called the Grand Canyon, the play derives much of its humor and wisdom from the fact that all its characters are played by women.
TimeOut wrote, "The play requires the company to stage the impossible: vessels barreling over waterfalls and hairsbreadth escapes from drowning. Silly? Sure. Thrilling? Oh, yes."
The production features a company of 10 Middlebury College students, including Becca Berlind, Madeline Ciocci, Kaitlynd Collins, Toria Isquith, Emily Ma, Katie Marshall, Gabrielle Martin, Coralie Tyler, Gabby Valdivieso, and Amanda Whiteley. Sam Martin is stage manager with Spencer Royston and Grace Weissman as assistant stage managers. Movement direction is by Peter B. Schmitz. Set design is by Hallie Zieselman, lighting design by Mark Evancho, and sound design by Allison Rimmer. Properties are by Jim Dougherty, the technical director. Glenna Ryer is the costume designer for the show, with Marcia Provoncha as costume director and Robin Foster Cole as associate costume director.
"Men on Boats" will be performed on Friday, November 30 at 7:30 p.m., Saturday, December 1 at 2 p.m. and 7:30 p.m., and Sunday, December 2 at 7:30 p.m. in Seeler Studio Theatre at the Kevin P. Mahaney '84 Center for the Arts. Please join us for a lively post-show talk back and discussion following the Friday evening performance.
Tickets are $15 for the general public; $12 for Middlebury College faculty, staff, alumni, emeriti, and other ID card holders; and $6 for Middlebury College students. The Mahaney Center is located at 72 Porter Field Road in Middlebury, just off Route 30 south. Free parking is available. For tickets or information, call (802) 443-MIDD (6433) or go to http://go.middlebury.edu/arts.