Students Present Findings at National Astronomy Conference
MIDDLEBURY, Vt. – Two Middlebury undergraduates presented findings from their research projects at the January 2019 meeting of the American Astronomical Society (AAS) held at the Washington State Convention Center in Seattle.
Both Sadie Coffin '19 and Diego Garcia '20 conducted their studies during last summer's NSF-funded Research Experiences for Undergraduates program organized by the Keck Northeast Astronomy Consortium, or KNAC. The members of the consortium are Colgate, Haverford, Middlebury, Swarthmore, Vassar, Wellesley, Wesleyan, and Williams colleges.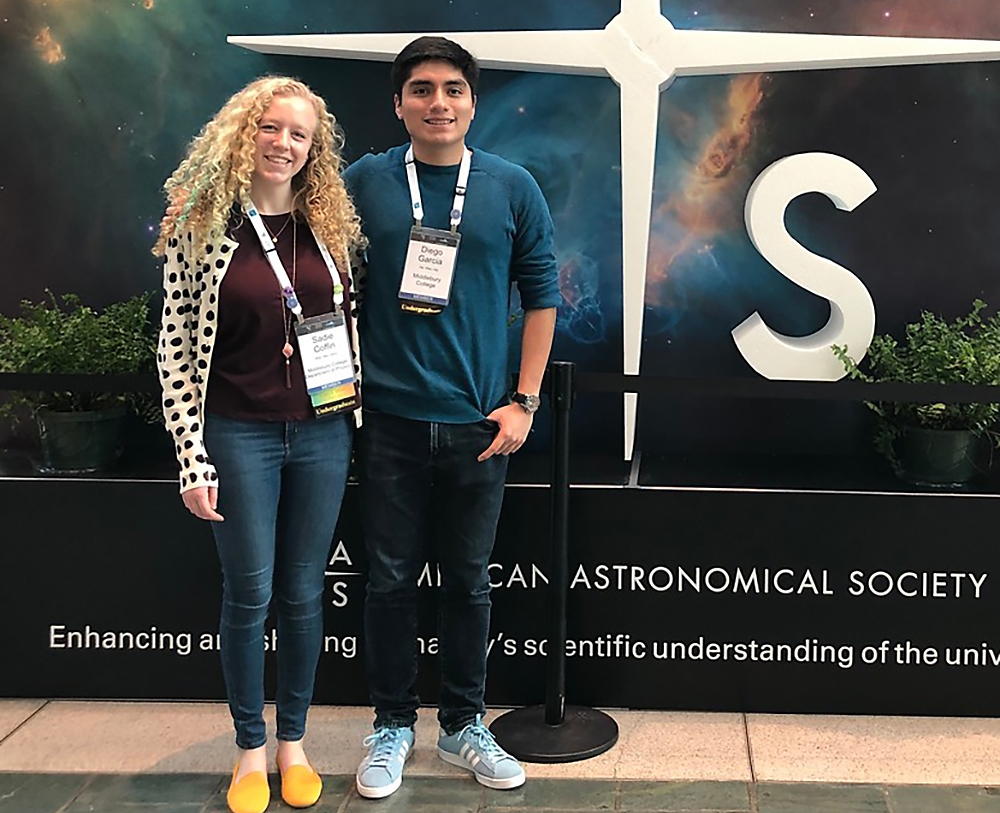 Sadie Coffin '19 and Diego Garcia '20 presented their findings at the January meeting of the American Astronomical Society. (Click on photo to enlarge.)
Coffin presented results from her project "Identifying Intrinsic X-ray Source Population Groupings in External Galaxies: Astronomical Uses for Machine Learning" during the "Binary Stars" poster session at the annual conference for astronomers. She conducted the research, along with Swarthmore student Karina Cooper, in the summer of 2018 at Wesleyan University's Van Vleck Observatory under the guidance of Associate Professor Roy Kilgard.
Her study examined the X-ray and optical properties of X-ray sources in order to perform classification and clustering with machine-learning algorithms, Coffin explained in an abstract for her project. A physics major, Coffin is from Bethesda, Md.
Garcia shared findings from his study "Determining the Evolutionary Status of the Disk Surrounding HD 166191" during the AAS poster session on "Circumstellar Disks." He conducted his project last summer at Wesleyan University's observatory with Meredith Hughes, assistant professor of astronomy.
HD1661191 is a Sun-like star located 119 parsecs from our Sun, Garcia explained in an abstract, and the circumstellar disk of this star exists in an ambiguous state between a protoplanetary and a debris disk. The proper classification of the disk is important because its evolution may be closely tied to our understanding of the formation of planetary systems. Garcia, a physics major, is from Queens, N.Y.
Coffin and Garcia were accompanied at the conference by Middlebury's Eilat Glikman, an assistant professor of physics and P. Frank Winkler fellow.
The American Astronomical Society is the leading organization of professional astronomers in North America. With approximately 7,000 members, including physicists, mathematicians, geologists, and engineers, the organization founded in 1899 strives to "enhance and share humanity's scientific understanding of the universe."