Bread Loaf Bookmobile Makes Annual Trip Up the Mountain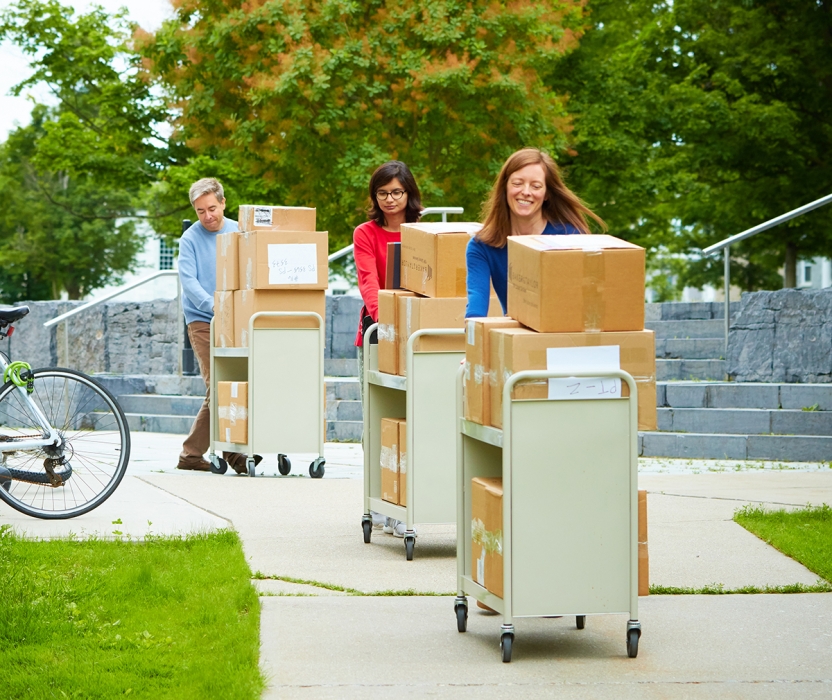 MIDDLEBURY, Vt. – It's a sure sign that summer has arrived when staff from Davis Family Library haul nearly 700 course-reserve books up the mountain to nearby Ripton. At the Bread Loaf School of English, the books provide an important supplement to the small permanent collection at Davison Library on the Bread Loaf campus.
This year's titles include This Is the Rope: A Story from the Great Migrationby Jacqueline Woodson, which will be used in the class "Writing for Children;" the poetry collection Blood Dazzler by Patricia Smith for the poetry writing workshop "Poetry of Humanity and Hope"; and the locally flavored Hands on the Land: A History of the Vermont Landscape by Jan Albers for "Creative Nonfiction: The Almanac."
"The Davison Library is very popular with our summer graduate students," says Kellam Ayres, circulation services coordinator for reserves and liaison to the Bread Loaf programs. Ayres, an alumna of the Bread Loaf School of English, says the tradition of bringing books up Ripton dates back to 1920—the inaugural summer of the Bread Loaf School of English—when the school's first dean, Wilfred Davison, brought a collection of his own books and placed them in a small room at the inn.
"This room, where students in his course would read books by kerosene lamp, was the place where library services at the Bread Loaf campus first began," said Ayres. Within the decade, the Bread Loaf book collection had grown to more than 1,000.
"Dean Davison felt the School deserved a proper library, especially as the books shipped up the mountain from the main campus had long since exceeded the available space in the Inn," said Ayres.
Davison's untimely death in 1929 at the age of 41 was the catalyst for building a new library, which opened in 1930 and was dedicated as the "Wilfred Davison Memorial Library."
One hundred summers later, a team of library staff members continues the tradition of bringing hundreds of books up the mountain each summer in support of the courses taught at the School of English, and to supplement the small permanent collection at Davison Library.
Last year, the most popular titles among Bread Loaf students, most of whom are K-12 language arts teachers, included Interpreter of Maladies, a collection of short stories by Jhumpa Lahiri; One Hundred Years of Solitude, by Gabriel García Márquez; and The Things They Carried, by Tim O'Brien.
The simple, rustic library, open only in the summer, is staffed seven days a week. A daily courier system shuttles requested library items back and forth between the main campus and Bread Loaf.
"On chilly mornings, the librarian on duty gathers wood from the bin on the porch and lays a fire in the old stone fireplace," said Ayres. "At the end of the summer, the books are packed up and shipped back down the mountain, and the library gets a nice, long winter rest."