Middlebury to Host Quidditch Festival October 5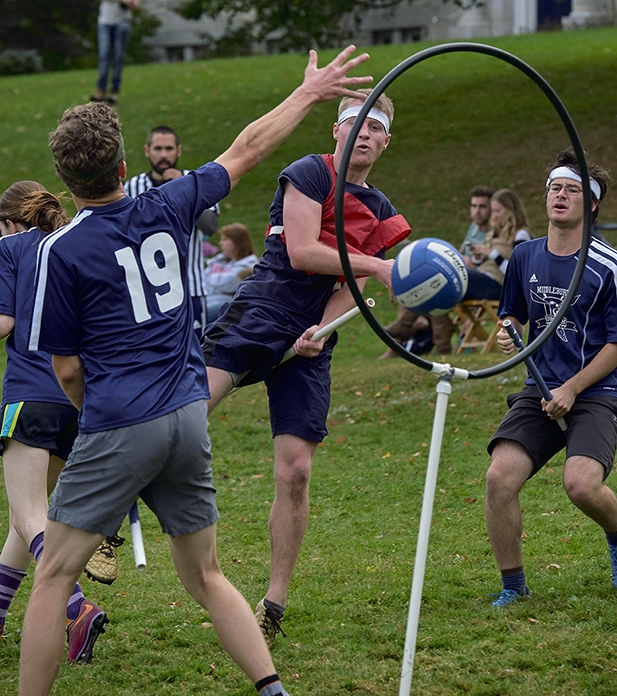 Middlebury students play quidditch on the area behind Battell known as "Battell Beach."
MIDDLEBURY, VT ­­– The Middlebury College quidditch team will hold its annual Middlebury Classic Quidditch Festival. Over a dozen teams from across New England will compete in a collegiate tournament and a Middlebury Commons Cup tournament. Spectators are invited to watch the quidditch matches and enjoy Harry Potter–themed activities.
Quidditch is a full-contact, multigender sport inspired by the Harry Potter book series, and was created by Middlebury College students in 2005. The College hosted the first three Quidditch World Cups. The sport has since grown to over 500 teams in 26 countries.
Food trucks and vendors, such as Taco Truck All-Stars, Alganesh's Authentic Ethiopian & Eritrean Cuisine, lu•lu ice cream, and Hippogriff Creek Butterbeer, will have lunch and snacks available for purchase throughout the event. Middlebury Quidditch is working with organizations on campus and around Addison County for festival events. Partners include the Ilsley Library and Middlebury Community Television, who will cohost a fun activity where people can have their photos taken as they "fly" through a quidditch pitch. Middlebury College student organizations will host children's quidditch workshops, potions demonstrations, face painting, and other activities.
Festivities begin on September 30, when golden snitches will be released around the town of Middlebury for a Snitch Hunt. Children can fill in their own Marauder's Map by finding snitches in the Ilsley Library Children's Room, Forth 'N Goal, the Marquis, the Vermont Book Shop, and Buy Again Alley before the festival day, when they are eligible to win prizes. Blank maps can be picked up at all of these locations.
The event is free and open to the public. All minors must be accompanied by an adult.
More information and the day's schedule can be found online.
Contact Anna Loewald, festival director, at aloewald@middlebury.edu with questions.
(Weekly practice schedules and b-roll are available to media upon request.)