Athletic Communications Wins Top NCAA Award for Athlete Profile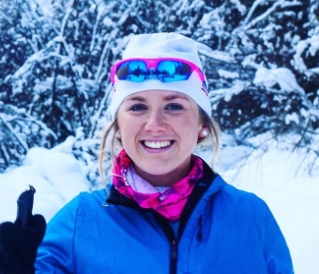 Chloe Levins '20
MIDDLEBURY, Vt. – Director of Athletic Communications Brad Nadeau has received the NCAA's 2019 Fall Division III and D3SIDA Recognition Award for a profile of Chloe Levins '20, a multisport athlete who is aiming for a spot on the U.S. biathlon team with hopes for a 2022 Winter Olympics bid. Nadeau and Assistant Director of Athletic Communications Dain McKee developed the concept for the piece, "Calling the Shots," which was written by freelancer Andy Gardiner, and debuted it on a new communications platform that brought Levin's story to life.
"I'm very honored to receive this award," said Nadeau. "It was truly a team effort."
Levins also excels at golf. She has been a two-time medalist at the NESCAC Women's Golf Championships, and in 10 tournaments over the last two seasons has finished in the top 10, winning medalist honors three times. She also is only the second player in program history to qualify for the NCAA Division III Championships.
The Division III and D3SIDA Recognition Award is a partnership between the Division III governance staff and the Division III College Sports Information Directors of America. The recognition program is part of the Division III Identity Initiative. It seeks to honor the best news releases, feature articles, videos, blogs, and other materials produced by Division III campus and conference athletics communication offices to portray the Division III identity and student-athlete experience.
More details on the recognition award are available here.