Steve Trombulak Wins Academic Leadership Award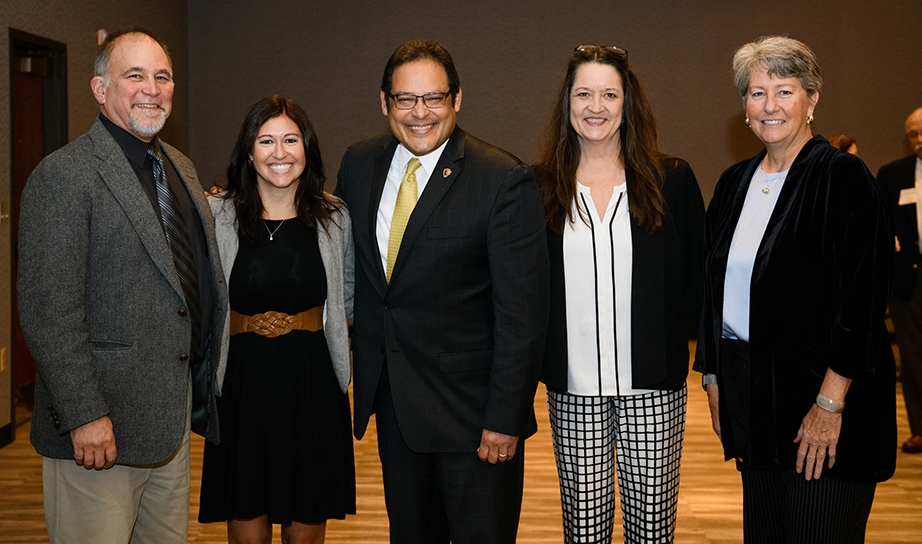 Professor Emeritus of Biology and Environmental Studies Steve Trombulak with fellow Hartzog Award winners (l to r) Dr. Jennifer Thomsen, David Vela, Dr. Carolyn Ward, and Chris Lehnertz.
CLEMSON – Steve Trombulak, Middlebury professor emeritus of biology and environmental studies, has received the Benton H. Box Award from the Clemson University Institute for Parks in recognition of his academic and instructional leadership in the environmental field.
The institute presents the annual awards program, which is named for George B. Hartzog Jr., the seventh director of the National Park Service, to showcase leading figures in the field of conservation. Specific awards are named after visionary leaders that Hartzog respected and admired. According to the institute, award recipients are following in Hartzog's footsteps by making significant contributions to the management of parks and preservation of our natural, historical, and cultural heritage.
The Benton H. Box Award recognizes academic professionals that exemplify Box's distinguished career as an educator and administrator. Trombulak shared this year's award with Ryan L. Sharp, associate professor in the park management and conservation program at Kansas State University, for leadership in preserving our natural environment and inspiring in students the quest for knowledge and the development of an environmental ethic.
Robert Baldwin, professor of conservation biology at Clemson University, presented the award to Trombulak at a ceremony on October 22. According to Baldwin, Trombulak is a force for science-based landscape management in the northeastern United States and Canada.
"He has published more than 90 scientific articles, many with Middlebury students, and his review of the ecological effects of roads has been cited 3,000 times," he says. "For a single paper, that's like winning the Heisman Trophy."
Trombulak is a conservation biologist and landscape ecologist. He earned his BA in biology at UCLA and his PhD in zoology at the University of Washington in Seattle. He began his research career focusing on population and community ecology, including studies on elevational distributions of pinyon pines in the Mohave desert, territorial behavior of hummingbirds in the tropical dry forests of Costa Rica, thermoregulation of desert-dwelling beetles in the Great Basin Desert, and competition between montane chipmunks in the Cascade Mountains of the Pacific Northwest.
At Middlebury College, he developed a diverse and highly successful teaching program in conservation biology, vertebrate natural history, and environmental science. His research program also expanded beyond ecology to embrace both conservation biology–with an emphasis on protected areas, conservation planning, and wildlands–as well as science pedagogy. He retired in June after 34 years in the field.
"I am so pleased that Steve has been recognized with this award," said Baldwin. "Steve, like Dean Box, has set an example as a teacher and scholar, he has fostered learning environments as an administrator and also an environmental ethic, both in his community and abroad."
The Clemson University Institute for Parks (CUIP) provides research, education, training, and outreach that enhances the management of the world's parks and protected areas. It accomplishes this by offering park and protected area managers with innovative research to support science-based decision-making; and by developing current and future leaders in the park movement by providing interdisciplinary and transformative education and training programs. The Institute currently consists of 35 fellows and eight scholars, including Trombulak, working on park-related research.