Asian influence to mark the start of new arts season at Middlebury College
MIDDLEBURY, Vt.?The arts scene at Middlebury College takes on an Asian flair this fall with a groundbreaking exhibition of Asian games and the opening of a redesigned gallery dedicated to Asian art.
It all begins Sept. 17 with the opening of "Asian Games: The Artof Contest" and the opening of the Robert F. Reiff Gallery of Asian Art?both at the Middlebury College Museum of Art.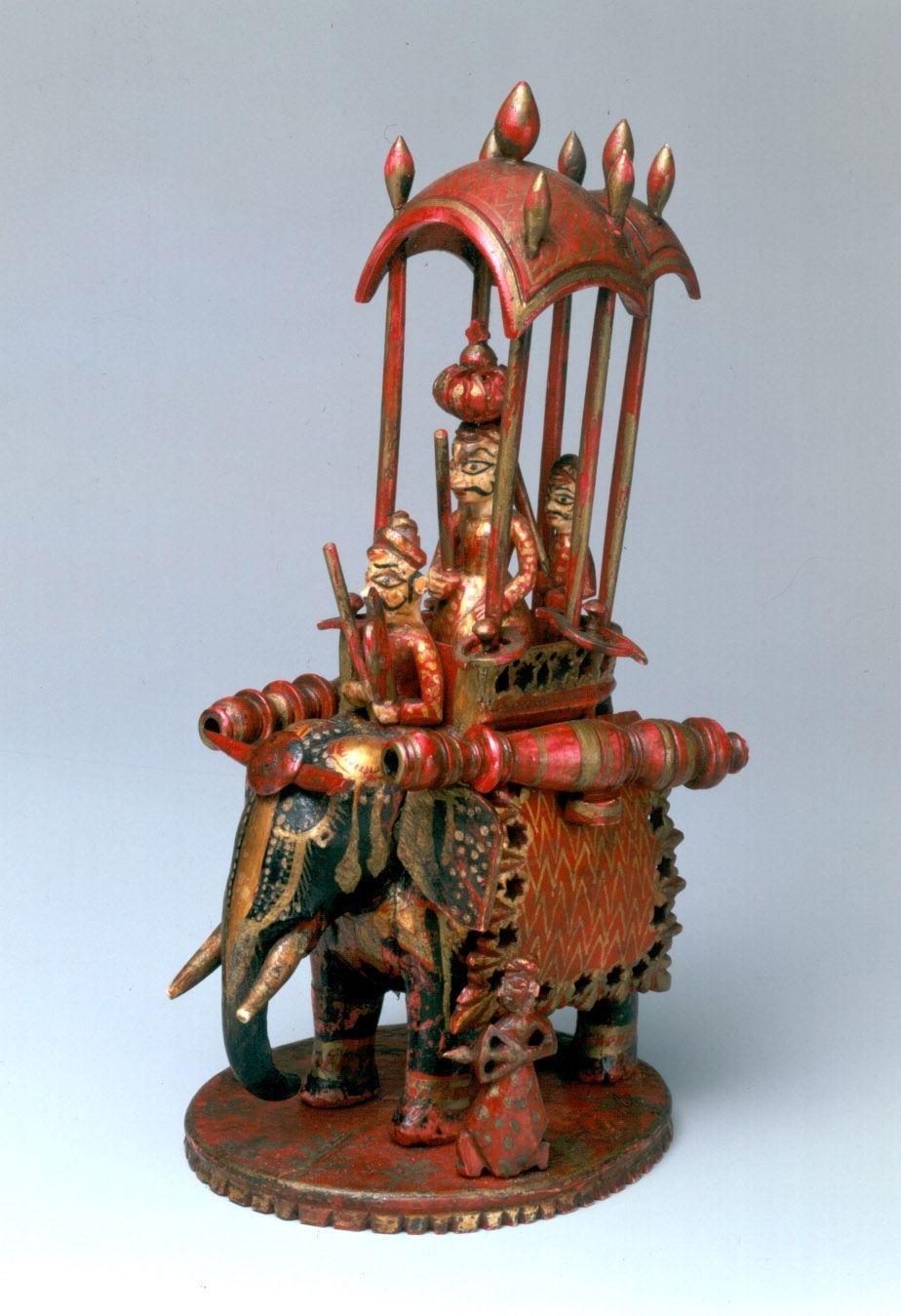 A 19th-century Indian chess set is part of the "Asian Games" exhibition to open at Middlebury College on Sept. 17.
The gallery is dedicated to the memory of Reiff, a professor of art history at Middlebury College from 1958 to 1982. Located on the museum's second floor, it was funded by Robert P. Youngman, a 1964 graduate of Middlebury, and his wife Barbara to house the museum's growing Asian collection and provide a space to exhibit loans from various public and private collections. Its inaugural exhibition contains nearly 100 works representing the major cultural traditions of Asia, including an exploration of silk and the Silk Road, ceramics, jade carving and Asian religions. Artifacts also include early textiles and paintings from China, Japan, Tibet, India, Pakistan and Mongolia. One highlight is a complete suit of 18th-century Japanese armor. After it opens Sept. 17, the exhibit in the Reiff Gallery will be ongoing.
Simultaneously, the "Asian Games" exhibition in the museum's Christian A. Johnson Memorial Gallery will feature items that span 2,000 years, originate from Japan to Persia, and examine the history and art of games in Asia. Actual games are featured along with paintings, prints and decorative pieces depicting people playing games throughout history. The exhibition traces the ancient Asian roots of some of the world's great modern games, such as chess, backgammon, Parcheesi, card games, snakes and ladders, and more.
New York Times critic Grace Glueck called the exhibition "engrossing" when it was on display last November at the Asia Society, where "Asian Games" was organized. Glueck also declared, "You don't have to be a gamesman to love this show. It's a playground for any eye."
The exhibition will include a hands-on playing area for visitors of all ages to try the various games, with instructors available on Wednesday and Sunday afternoons. "Asian Games" runs through Dec. 11.
The Museum of Art plans a number of events related to "Asian Games," including a "go" demonstration and competition in the McCullough Student Center on Sept. 29. Go (a.k.a. "weiqi") is the world's oldest game of skill. Former women's world champion Feng Yun will demonstrate the game and face multiple opponents. There will also be a gallery talk on Oct. 1 about games and Asian culture given by Colin Mackenzie, Middlebury College Robert P. Youngman Curator of Asian Art. In a separate talk Oct. 6, Mackenzie will discuss materials and symbols of Asian art. Both talks are at the museum. A showing of the Indian film "The Chess Players" on Oct. 1 and a family games afternoon on Oct. 15 will also complement the exhibition.
MUSEUM
Also noteworthy this season at the Museum of Art is "Art Now: Confronting Figures," on display in the Overbrook Gallery Sept. 17 through Dec. 11. The exhibition reflects the fact that, after half a century of predominantly abstract painting, contemporary artists with a wide spectrum of styles and ideologies are painting the human figure again. Provocative works by Marlene Dumas, Nicola Tyson and others are included.
PERFORMING ARTS SERIES
The Performing Arts Series has a full slate this year including several old favorites as well as some interesting fresh acts new to Middlebury. A highlight promises to be a trio of appearances by pianist Paul Lewis on Oct. 28, March 16 and May 12. Lewis began his Beethoven piano cycle last season and will continue with these recitals in the Center for the Arts Concert Hall.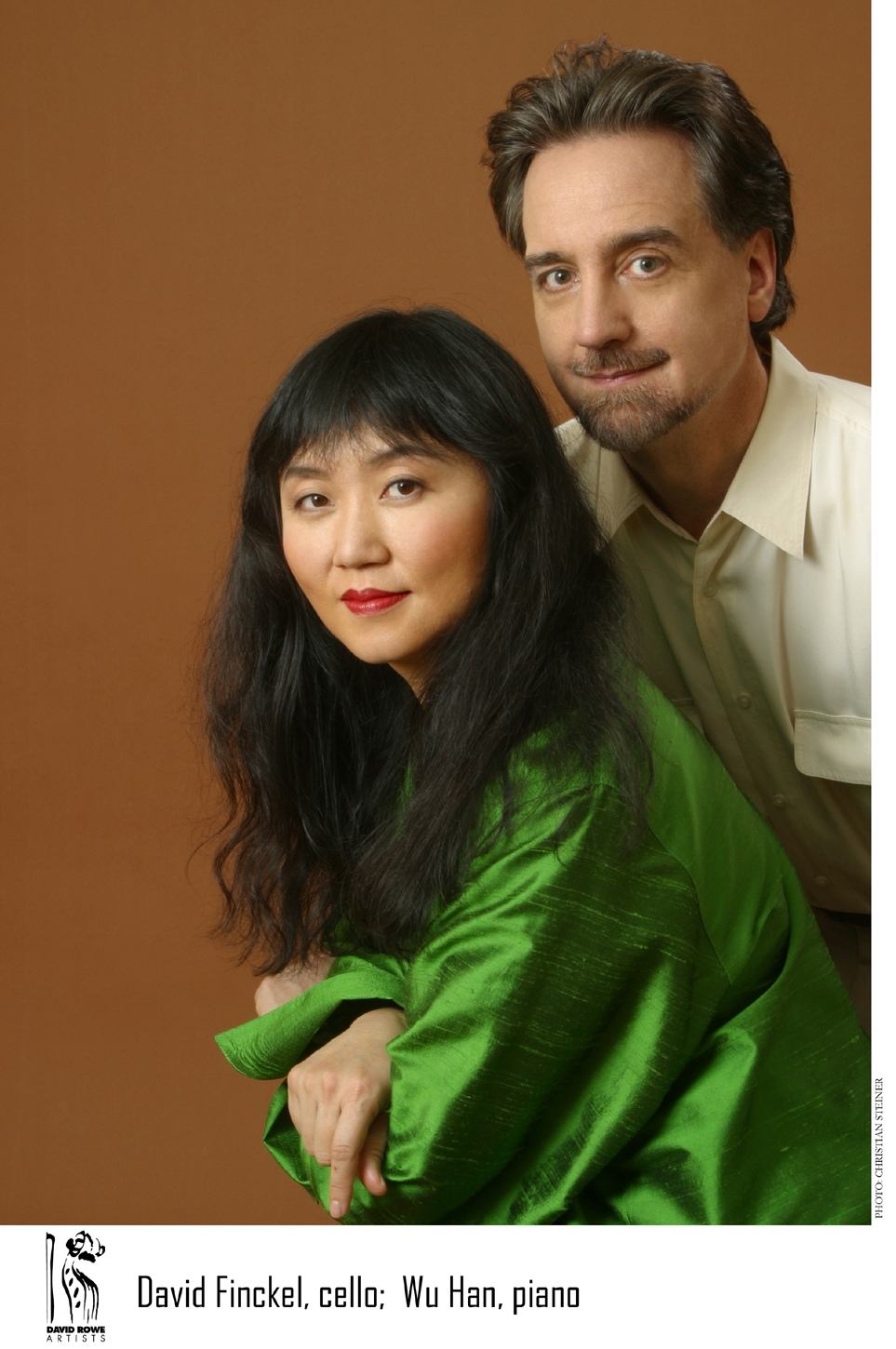 Cellist David Finckel and pianist Wu Han return to Middlebury College for a performance on Feb. 21.
Husband-wife duo, cellist David Finckel and pianist Wu Han, return to the Concert Hall Feb. 21 with a program of Rachmaninoff, Prokofiev, and a special piece composed for them by Lera Auerbach. Finckel and Han are familiar faces at Middlebury, performing both together and in separate concerts?Finckel with the Emerson Quartet and Han in various musical combinations.
A fresh face on the scene this year is Rajeev Taranath, who performs Hindustani classical music on the sarod, a beautiful 25-string instrument. Acclaimed for his imagination and emotional intensity, Taranath will be joined in the Concert Hall on Oct. 6 by tabla player Abhiman Kaushal.
On April 2, Mead Chapel will ring with the sounds of Renaissance choral music by the Tallis Scholars. World-renowned for their recordings and concerts, they last performed at Middlebury 15 years ago. Their program will feature German music, including Bach.
DANCE
Once again celebrating movement, birds and the land, "The Birdhouse Project" takes place Sept. 23-24 in front of McCardell Bicentennial Hall as part of a symposium on renewal.
New York-based Bill Young and Dancers plan a three-day residency on campus in November featuring a master class and performances of their gravity-defying, physical techniques. They will showcase their sensuous, athletic signature partnering in "Rein, Bellow," in the Center for the Arts Dance Theatre. Another element of their Nov. 4-5 program is "Ripe for Hysteria," which features live video in a look at the dancers' public and private personas.
In January, the Dance Company of Middlebury continues its Cuba Project, a multi-year celebration of the art and dance of Cuba, by hosting two former members of the Cuban dance group Compañia de la Danza Narciso Medina. While on campus, they will perform with the company and teach workshops. The Jan. 27-28 program in the Dance Theatre will also feature a new solo by Middlebury College Artist-in-Residence in Dance Amy Chavasse, known for her elegant dancing coupled with irreverent commentary on current events.
THEATRE
The season kicks off with the intense energy of award-winning rapper, actor, playwright and educator Will Power, who will share his take on hip-hop culture with a lecture and demonstration Sept. 26 in Wright Theatre. He will explore the roots of hip-hop and discuss current trends related to the growing art form. On Sept. 27, Power will perform a solo show, "Flow," which combines his rap monologue with live sound and music by DJ Reborn.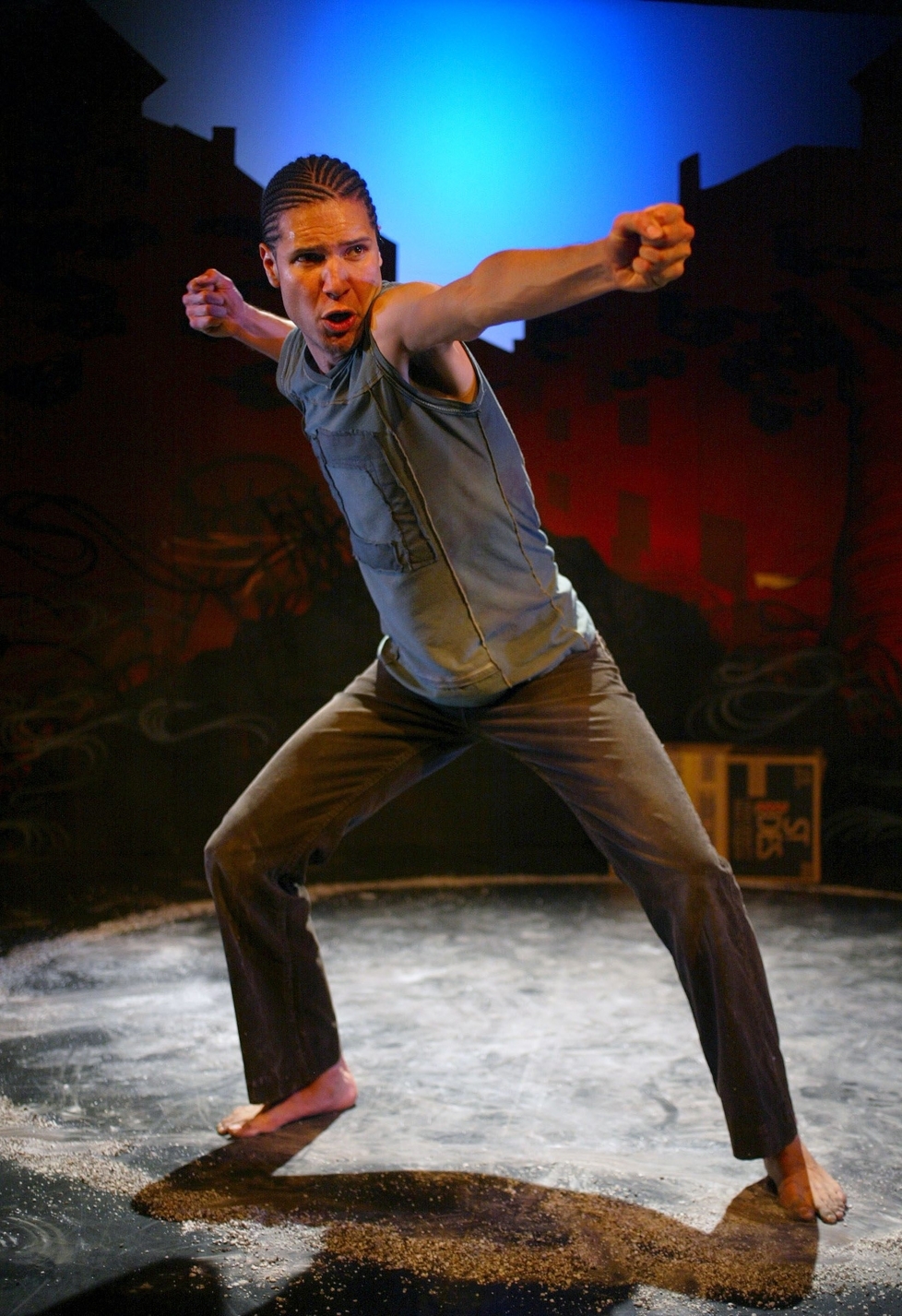 Hip-hop theatre pioneer Will Power performs "Flow" on Sept. 27 at Middlebury College.
In November, director and Middlebury College Professor of Theatre Richard Romagnoli and a cast of more than 30 actors playing over 50 roles present "The Bewitched" by Peter Barnes in Wright Theatre. The 30-year-old satire, premiered by the Royal Shakespeare Company and receiving its American premiere with this production, explores 16th-century Spain through the lives of people in positions of privilege. According to Romagnoli, Barnes' work is bawdy, visceral, vaudevillian and highly poetic. The London Theatre Exchange?British theatre artists deeply involved in actor training?are in residence at Middlebury Sept. 19-Oct. 8 to conduct workshops with the actors. Performances for mature audiences are Nov. 17-20, and a free lunch discussion with Romagnoli is scheduled for Nov. 15.
On April 6-8, the Seeler Studio Theatre will be home to guest artist Jaye Austin Williams who will direct "In the Blood," a modern adaptation of Nathanial Hawthorne's
"The Scarlet Letter" in which the outcast protagonist Hester is an African-American mother of five. Written by Pulitzer Prize-winning playwright Suzan-Lori Parks, the script features a multiracial ensemble cast with each actor and actress playing multiple roles.
FILM
The Hirschfield Film/Video Series returns this season with an eclectic collection of 17 independent films from the United States and around the world. Highlights include the Nov. 5 showing of "Born into Brothels," the 2004 Academy Award winner for best documentary that tells the story of children living in the red-light district of Calcutta. "The Motorcycle Diaries," scheduled for Nov. 12, is a film adaptation of a journal penned by a young Ernesto "Che" Guevara, one of the leaders of the Cuban Revolution, as he and friend Alberto Granado travel throughout South America.
Films in the series are shown free twice on Saturdays-once at 3 p.m. and again at 8 p.m.-in Dana Auditorium in the Sunderland Language Center on College Street (Route 125).
TICKETS, PROGRAM AND DINNER INFORMATION
Performing Arts Series tickets are $12 for general admission and $10 for seniors. Department events are $5 for general admission and $4 for seniors. Many events are also free. Pre-performance dinners for select engagements are held at Rehearsals Cafe in the Center for the Arts.
Information; dinner reservations; tickets for all music, theatre and dance performances; a free, color 2005-2006 Middlebury College arts calendar; and the free quarterly newsletter, "Arts at Middlebury College," are all available through the college's Box Office at 802-443-6433. Patrons may visit the Center for the Arts on the Internet at www.middlebury.edu/arts to order tickets, view the electronic edition of the arts calendar or newsletter, or sign up for Middlebury College Arts Mail-an information service that delivers e-mail updates on arts and cultural events.
This fall, the college will open a second Box Office in the lobby area of the Grille in the McCullough Student Center on Old Chapel Road off South Main Street (Route 30).
Museum exhibition information is available at 802-443-5007 or on the museum's Web site at www.middlebury.edu/museum. Hours are Tuesday through Friday from 10 a.m.-5 p.m., and Saturday and Sunday from 12 p.m.-5 p.m. Museum admission is free.