Mike Hussey named new director of Rikert Ski Touring Center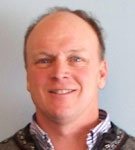 MIDDLEBURY, Vt. — Middlebury College has named Michael P. Hussey as director of  the Rikert Ski Touring Center, a cross-country ski area owned by the college and located at its Bread Loaf campus in Ripton. He began working in his new position part time in December and will assume his responsibilities full time in April 2011. Hussey is currently the Eastern sales manager for Natick, Mass.-based Snow Economics Inc., a snow-making equipment manufacturer, where he has worked since 1994. He will continue to work for Snow Economics part-time until April 2011. A resident of Ripton, Hussey is well acquainted with Rikert and has served as the coach of the Frost Mountain Bill Koch League Nordic Ski Program there since 2004.
"Rikert has enormous untapped potential as a ski area," said Hussey. "In the months ahead I want to reintroduce Rikert to members of the local and college communities who haven't visited recently. I also want to reach out beyond the college and Addison County to cross-country skiers elsewhere in Vermont and beyond who are not aware of what Rikert has to offer, including its beautiful setting in the Green Mountains."
"With his knowledge of the ski industry, Mike will raise Rikert's profile and bring new programs and ideas to a wonderful ski area that's been a bit of a secret beyond Addison County," said Tom Corbin, Middlebury College director of business services.
According to Hussey, visitors to Rikert will notice some immediate changes this winter as well as some more improvements next season. All-new rental equipment ― both classic and skate skis ― is available now and a brand new groomer is keeping the trails in good condition. Hussey also plans to offer women's days this season and to create a terrain park for kids when enough snowfall has accumulated.
Hussey's future plans for Rikert include improvements to the race course that would enable Rikert to host such national events as Masters cross-country skiing competitions along with the college athletic events it hosts now. Other possible ideas include adaptive ski and after-school programs.
Eventually Hussey plans on using advertising as well as Facebook to help increase awareness about what Rikert has to offer.
At Snow Economics, Hussey is responsible for overseeing sales, service and customer relations. He also assists in developing marketing strategies, and in the research and development of new equipment.
A 1987 graduate of the University of New Hampshire, he was also a member of the UNH Nordic Ski Team and its captain for two years, earning All American honors in 1985. He then worked as the team's assistant coach from 1987-1988. Hussey went on to become a member of the development team for the United States Ski Team from 1995-1996. As an accredited United States Ski and Snowboard Association (USSA) assistant technical delegate for Nordic skiing since 2009, he serves as an official at Nordic ski competitions.
Hussey lives in Ripton with his wife and two children.
Rikert Ski Touring Center
The Carroll and Jane Rikert Ski Touring Center is a cross-country ski area located at the Bread Loaf campus of Middlebury College in Ripton, Vt. Bordered by the Green Mountain National Forest, these woodlands provide unspoiled natural beauty near the top of the Green Mountain range. Just 12 miles east of Middlebury on Route 125 and one and one-half miles west of the Middlebury College Snow Bowl, Rikert offers 42 kilometers of prepared trails for every level of ability.
Rental equipment, repairs and waxing rooms are available. A full-time staff of professional ski instructors offers lessons on a private and group basis.