School in Italy celebrates 50th year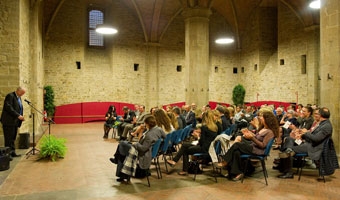 FLORENCE, Italy—The 712-year-old Palazzo Vecchio in the center of Florence was the setting for a grand celebration on October 11, as the C.V. Starr-Middlebury School Abroad in Italy marked its 50th anniversary.
Beginning with only 10 students in its first year, the School in Italy now has some 1,400 alumni living all over the world. With sites in Florence, Ferrara and Rome, the school enables students to enroll directly in an Italian university, taking courses in any discipline the university offers. They live with Italian families or roommates and are completely immersed in the Italian language and culture throughout their semester or year abroad.
The anniversary celebration was attended by more than a hundred well wishers—alumni of the School in Italy; current students, professors, and staff members; and representatives of Middlebury College. Special guests included the mayor of Florence, Matteo Renzi, and Leonardo Ferragamo, CEO of Palazzo Feroni Finanziaria S.p.A, a holding company of the Salvatore Ferragamo shoe and luxury goods dynasty. As president of the Associazione Partners Palazzo Strozzi, Ferragamo has been instrumental in promoting culture and the arts to the benefit of Florence and those who love the city, while also helping foreign students to participate in the city's cultural events.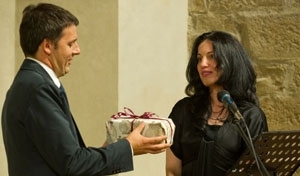 Matteo Renzi, mayor of Florence, accepts a Danforth Pewter oil lamp from Rosa Cuda, director of the School in Italy, as a token of Middlebury's gratitude for the city's hospitality over the past half-century.
Jeffrey Cason, dean of international programs at Middlebury College, welcomed alumni and guests to the event, and credited the staff and faculty of the School in Italy for the program's enduring success. "Middlebury's program in Italy embodies the best of what we want our programs abroad to accomplish," he said. "It is academically demanding; it exposes students to remarkable new experiences and challenges them to change or reconsider their views of the world."
Michael Geisler, Middlebury's vice president for Language Schools, Schools Abroad, and graduate programs, reflected on the history of Florence as a center of Italian art, literature and language. "Speaking on behalf of the generations of Middlebury students who have been welcomed here," he said, "I would like to thank Mayor Renzi and the citizens of Florence for their hospitality and for letting us spend a semester or a year here in the heart of the Western art world."
The School in Italy is one of nine C.V. Starr-Middlebury Schools Abroad. All students at the Schools Abroad are expected to demonstrate a high level of language proficiency and a commitment to language and cultural immersion. During their time abroad, they engage with their host society on a number of different levels, become more proficient in the language, advance their academic and personal interests, and become familiar with the cultural, social, political and historical conditions of their host country.