Snow Bowl, Rikert pitch in to help Rochester School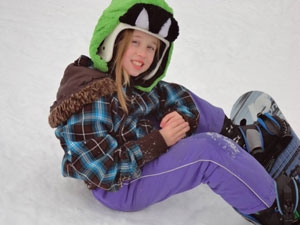 Middlebury offered free winter programs to school hard hit by Tropical Storm Irene
MIDDLEBURY, Vt. — By the time Tropical Storm Irene was done with Rochester, Vt., late last summer, a large swath of the town was in ruins. One of the hardest hit institutions was the Rochester School, which sustained serious damage just as the 2011-12 school year was getting under way. The storm flooded a third of the school's campus, and the computer lab, shop class, art room and auditorium were "pretty much destroyed," according to Mary Sue Crowley, principal of the school.
Since the storm hit in late August 2011, the school and the town have rebounded strongly. Vermont Governor Peter Shumlin visited on April 9 to congratulate the community on how far they've come, and officially declare the day as "Rochester Road to Recovery Day" in Vermont.
This winter, the weather was somewhat unkind to a couple of other local institutions, the Middlebury College Snow Bowl and the Carroll & Jane Rikert Nordic Center. Both sites escaped Irene without any lasting damage, but the nearly snowless winter of 2011-12 left its mark. While snowmaking kept the Snow Bowl open for just about the entire season, the warm days and lack of natural snow meant limited operation for much of the winter at both sites. But that didn't keep them from pitching in to help the Rochester School during its time of need.
For the past few years, the school has sent groups of students to the Snow Bowl and Rikert several times each winter for skiing, snowboarding, and snowshoeing. This year, in the aftermath of Irene, the College decided to provide the programs for free. And the decision was much appreciated by Mary Sue Crowley, who said the school had been unsure whether it would be able to afford the programs this winter, with all the unexpected expenses from Irene's visit.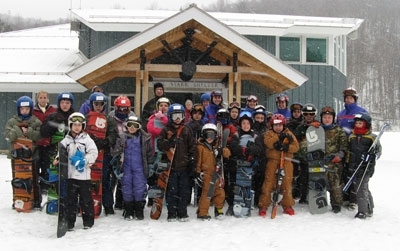 Groups of Rochester School students visited the Snow Bowl several times this winter.
Crowley said that Deb Gorton, the school nurse, and Terry Paquette, who runs the phys ed program, both accompanied the 50 or so elementary school students on their visits to the Bowl and Rikert, along with several volunteer parents. "Both staff members commented on how great it was that even on one day when there was not enough snow for skiing, the Middlebury sites put together a winter hiking program for the students," said Crowley, "and everyone came back beaming."
The school let the students know that there was something special about this year, with the Snow Bowl and Rikert providing the programs free of charge. And students responded with a "thank-you" card to the Bowl and Rikert, signed by everyone who attended the programs this winter.  After the unprecedented season they'd just endured, Snow Bowl manager Peter Mackey, snow school director Susan Davis and Rikert director Mike Hussey and all their staffers surely appreciated the gesture.
"We really want everybody to understand that our students always come back from their trips to the Snow Bowl and Rikert with such huge smiles," said Crowley, "and they talk about how well they're treated by the instructors, the ski shop personnel, and everyone else."