Middlebury in DC Comes to Washington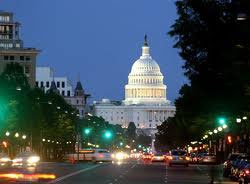 MIDDLEBURY, Vt. ‒ Middlebury, Vt., and Washington, D.C., may appear far apart on a map, but they're much closer in reality with the opening of Middlebury in DC, the institution's new office in the nation's capital.
Located at 1400 K St., the office will give students, faculty and staff from Middlebury College and the Monterey Institute of International Studies, a Middlebury graduate school, increased access to the many academic, government, international, research and philanthropic organizations in the Washington, D.C., area. The space also houses the Washington, D.C., office of the James Martin Center for Nonproliferation Studies (CNS), which is part of the Monterey Institute.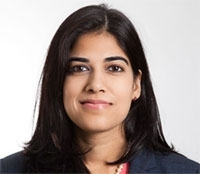 Fariha Haque is the director of
Middlebury in DC.
Middlebury recently appointed Fariha Haque as the first director of Middlebury in DC. Haque was most recently an analyst in the District of Columbia Public Schools' office of early childhood education. She earned a bachelor's in international relations from Wellesley College and a master's in education policy from the University of Pennsylvania.
"Middlebury and Monterey are global institutions with ties to countries around the world through our programs and alumni networks," said Haque. "It makes sense to have a stronger presence in Washington, and I look forward to helping to establish that."
Middlebury President Ronald D. Liebowitz said the opening of the office will create a range of opportunities. "What makes this new office so exciting is how many different aspects of the institution can take advantage of it and consequently all that Washington has to offer," said Liebowitz. "It will allow our institution to bring together students, faculty, staff, alumni and friends from all of our degree programs to enrich a particular course, a continuing education program, and much more."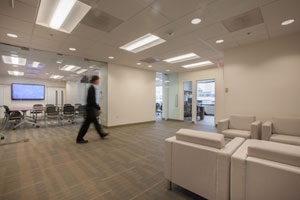 The lobby of Middlebury in DC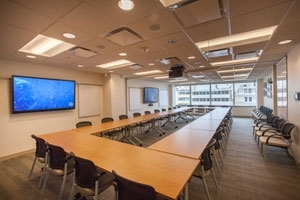 The large conference room in the new office
The new 6,500-square foot office has meeting and office space as well as a large videoconferencing facility. Haque said the office creates new opportunities to connect students at any of Middlebury's schools and programs with leading experts and policy makers who might otherwise not be available to travel to Vermont, California or one of Middlebury's dozens of Schools Abroad campuses. Haque also expects the career and internship offices in Middlebury and Monterey to make use of the office and its video capabilities.
A hub for alumni, Middlebury in DC has already hosted several events. The Monterey Institute held an alumni reception there Oct. 1 and the Middlebury Washington, D.C., alumni chapter organized a talk by Middlebury Associate Professor of American Studies and author Susan Burch, who discussed her book "Unspeakable: The Story of Junius Wilson" on Nov. 20.
"These events only represent the beginning of what's possible here," said Haque.
For more information about Middlebury in DC visit http://www.middlebury.edu/offices/dc.