Alumni Return to Middlebury Classrooms
MIDDLEBURY, Vt. – Why do alumni keep coming back to the Bread Loaf Mountain campus every year around Labor Day? The glorious Vermont weather? The rustic beauty of the Ripton campus? The food? The camaraderie?
It's all of those things, of course, but mostly the opportunity to learn from Middlebury's superb faculty that lured 113 participants back to Middlebury for Alumni College at the Bread Loaf campus August 28-31. This year's session offered a slate of intriguing courses:
Architectural Eras and Treasures of Addison County with Glenn Andres, professor of history of art and architecture;
Contemporary Moral Issues with Steven Viner, assistant professor of philosophy;
Mountains of the Northeast with Jeffrey Munroe, professor of geology;
Seeking Simplicity with Rebecca Gould, senior lecturer in environmental studies; and
Time Around the Table: The Food and Foodways of Italy with Ilaria Brancoli Busdraghi, lecturer in Italian.
Alumni College 2014 provided Professor Munroe with the opportunity to meet alumni, parents, and trustees "who are deeply devoted to Middlebury. And the feedback I received from my students, both in and out of the classroom, made it obvious that this type of continuing education is important to them," he said.  
It is eye opening to see just how popular Alumni College is within the Middlebury community. When the attendees in one class introduced themselves, more than half had been to Alumni College before and several had attended five or more sessions over the years.
Kathy Mason Ambrette '68 has been going to Alumni College for 17 years – in a row. "I enjoy seeing old friends, making new ones, and getting intellectually stimulated," she said. "I hope to keep taking courses there for another 17 years."
"Alumni College has always been and continues to be an important point of alumni and parent engagement," explained Ian McCray '95, director of alumni and parent programs. "It allows alumni to once again be taught by some of the finest scholars in their fields and relive what was, hopefully, a seminal part of their experience at Middlebury.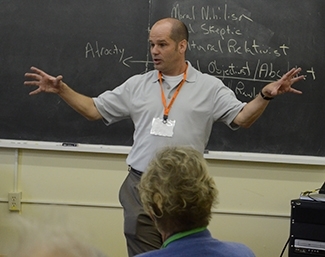 2_325" title="dsc_2222_325" width="325" height="257" />
Prof. Steven Viner brought moral relativism to life for his Alumni College students.
"And for parents and friends of the College, it provides a taste of that classroom experience their sons/daughters/friends have all raved about."
Started in 1976, Alumni College is held annually to provide alumni and parents with the opportunity to explore intellectual topics with members of the faculty. In addition to class time, this year's participants enjoyed guest lectures, social events, and an informal conversation with President Ronald D. Liebowitz. 
Ms. Busdraghi, an expert on the food of Italy, said, "There was a real exchange of ideas in my class. Everyone was 'generous' with their energy, voicing their views and bringing something personal to the group."
"In the end we hope that everyone gains a better understanding of their chosen topic," said McCray, "and of how professors are teaching and what students are learning in 2014."
With reporting and photography by Robert Keren