Middlebury Welcomes Class of 2018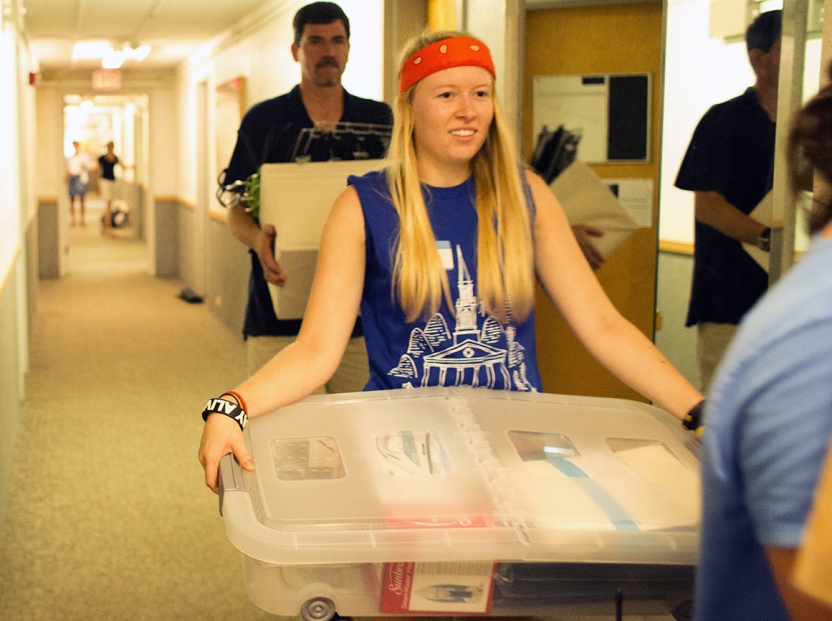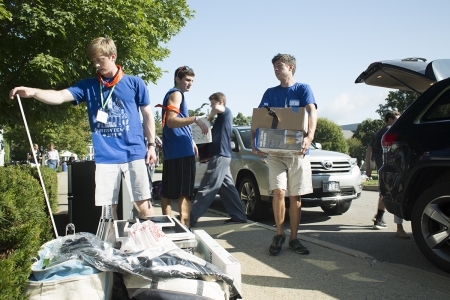 MiddView workers unload cars for students moving into Battell Hall.
MIDDLEBURY, Vt. – Members of the class of 2018 arrived on campus to a warm, sunny Labor Day. In front of Battell Hall, car after car rolled up, greeted by throngs of student helpers who made quick work of the luggage and boxes piled on the sidewalk. 
With the fall semester still a week away, the 587 first-year students will experience a week of orientation activities before diving into their classes.
MiddView the orientation program, includes advising sessions with faculty, discussions about the honor code, class registration, workshops, class meetings, and a welcome barbeque with President Ronald D. Liebowitz.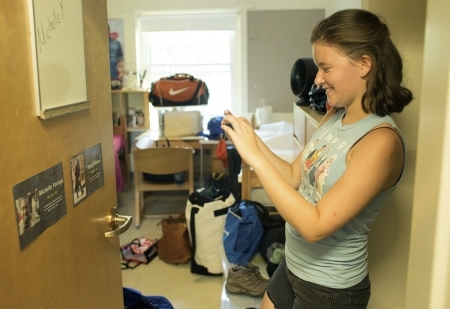 Hazel Millard '18 snaps a photo of her Battell Hall door during move-in on Labor Day.

The new students also go on trips led by returning students and organized into three categories: community engagement, Vermont exploration, and wilderness experience.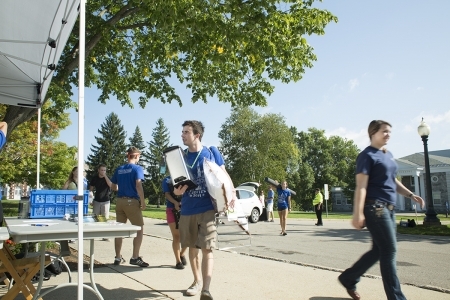 MiddView crew members stream into Battell Hall with luggage and room furnishings.

By 10 a.m., first-year student Taylor Cook of Syracuse, New York, had already put the finishing touches on her second-floor room in Battell. She was excited about her MiddView trip, a "volunteer sampler" aimed at community engagement. "I'm definitely going to want to volunteer while I'm here," she said. "This way I'll get to see which environment I really like and get a little experience."
Down the hall, Drew Buchser of Chatham, New Jersey, was creating a wall graphic from prints of Andy Warhol's Marilyn Monroe series. Although he's a first-year, it wasn't Buchser's first time in a Battell room. He had spent a few days in the residence hall during a recruitment trip for the swimming team, so he knew what to expect. He was looking forward to meeting classmates on his "Exploring Lake Champlain" MiddView trip later in the week.
Hazel Millard, of Brooklyn, New York, who is planning to study political science and international politics and economics, was also looking forward to meeting people and getting the lay of the land. "It's so beautiful; I'm excited to live here," she said. Millard will be part of a MiddView trip that will do day hikes at Elmore State Park in northern Vermont.
At the end of their busy week, the Class of 2018 will gather in Mead Chapel on the Sunday before classes to hear a formal address by President Liebowitz at the traditional opening Convocation.
Members of the first-year class represent 44 states and the District of Columbia. Nearly 12 percent are from outside the United States and 26 percent identify as students of color. Fourteen percent are the first generation in their families to attend college, the highest percentage for any recent incoming Middlebury class.
For Middlebury's overall student body, the states that send the most students are New York (370), Massachusetts (316), California (272), Connecticut (170), and Vermont (163). Internationally, 86 countries are represented; China, including Hong Kong, has the most enrolled students with 56, followed by Canada (33), the United Kingdom (29), France (19), and the Republic of Korea (16).
Eighty-five additional new students, or "Febs," will join the first-year class in February 2015, which will bring the total number of new undergraduates in the 2014-15 academic year to 672.
For More Information