Middlebury Welcomes New Faculty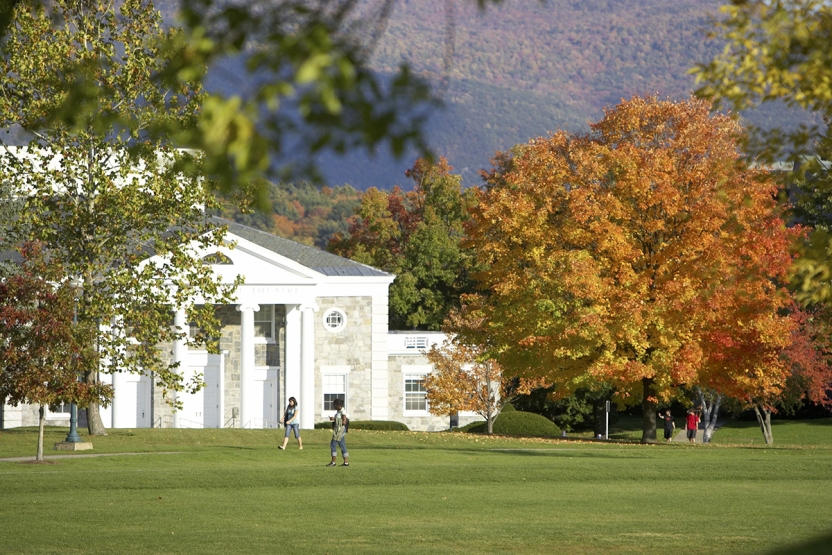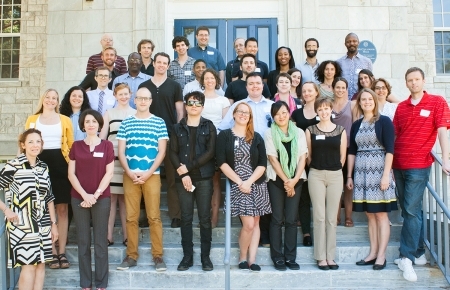 MIDDLEBURY, Vt. — Middlebury has welcomed 52 new faculty members this fall in a variety of teaching capacities, including 20 tenure track positions. The incoming group also includes six instructors, seven postdoctoral fellows, and seven foreign language teaching assistants.
"We are fortunate to be able to attract such highly talented faculty each year, and this year is no exception," said Andrea Lloyd, vice president for academic affairs and dean of the faculty. "Our new faculty this year come from a wide range of personal and academic backgrounds, and cover a wide array of disciplines, but they share a commitment to and enthusiasm for teaching undergraduate students–and I'm sure that their energy, creativity, and excitement will benefit our students and the community as a whole."
This year, Middlebury also welcomed the first cohort of three postdoctoral fellows hired as part of the Creating Connections Consortium, a multi-institutional effort aimed at building academic settings that foster the full participation of diverse students and faculty. In addition to teaching two courses per year and pursuing their own scholarly interests, the fellows will engage with underrepresented undergraduate students to help them actively consider and be prepared for graduate school.
Following is a list of all new faculty members for the 2014-15 year:
Professors
David Pratt Ph.D., University of Calif., Berkeley, Visiting Professor of Chemistry/Biochemistry
Assistant Professors
Sayaka Abe Ph.D., SUNY, Buffalo, Assistant Professor of Japanese Studies
Carrie Anderson Ph.D., Boston University, Assistant Professor of History of Art & Architecture
Bill Army M.F.A., NYU, Tisch Graduate School, Visiting Assistant Professor of Theatre
Brandon O. Baird Ph.D., University of Texas, Austin, Assistant Professor of Spanish
Merrill S.A. Baker-Médard Ph.D., University of California, Berkeley, Assistant Professor of Environmental Studies
Tanya S. Byker Ph.D., University of Michigan, Assistant Professor of Economics
Keegan Callanan Ph.D., Duke University, Assistant Professor of Political Science
Michael Dash Ph.D., University of Wisconsin, Madison, Assistant Professor of Psychology
Adam Dean Ph.D., University of Chicago, Assistant Professor of Political Science
Michael Durst Ph.D., Cornell University, Assistant Professor of Physics
Ellery Foutch Ph.D., University of Pennsylvania, Assistant Professor of American Studies
Craig Freedman Ph.D., University of Massachusetts, Visiting Associate Professor of Economics
Lesley-Ann Giddings Ph.D., Massachusetts Institute of Technology, Assistant Professor of Chemistry (arrives January)
Sebnem Gumuscu Ph.D., University of Virginia, Assistant Professor of Political Science
Emiliano Huet-Vaughn Ph.D., University of California, Berkeley, Assistant Professor of Economics
David Humphrey Ph.D., University of California, Berkeley, Visiting Assistant Professor of Japanese Studies
Tzveta Kassabova M.F.A., University of Maryland, College Park, Assistant Professor of Dance
Kelli Kazmier Ph.D., Vanderbilt University, Visiting Assistant Professor of Chemistry/Biochemistry
Jenny Kemp M.F.A., SUNY, Albany, Visiting Assistant Professor of Studio Art
Batool Khattab Ph.D., Ain Shams University, Egypt, Visiting Assistant Professor of Arabic
Anson Koch-Rein Ph.D., Emory University, Visiting Assistant Professor in Gender, Sexuality, Feminist Studies
Eloy LaBrada Ph.D., Princeton University, Assistant Professor of French
Silvina Lopez Barrera M. Arch, Iowa State University, Visiting Assistant Professor of Architecture
David Miranda Hardy Ph.D., Temple University, Assistant Professor of Film & Media Culture (arrives January)
Robert Moeller Ph.D., New York University, Assistant Professor of Psychology
Lama Nassif Ph.D., University of Texas, Austin, Assistant Professor of Arabic
Trebien Pollard M.F.A., NYU, Tisch Graduate School, Visiting Assistant Professor of Dance
Victor Valcik M.F.A., Warren Wilson College, Visiting Assistant Professor of Literature
Jonathan Vandenberg M.F.A., Columbia University, Visiting Assistant Professor of Theatre
Tracy L. Weston Ph.D., University of North Carolina, Chapel Hill, Visiting Assistant Professor of Education Studies
Orian Zakai Ph.D., University of Michigan, Ann Arbor, Visiting Assistant Professor of Modern Hebrew
Instructors
Leila E. Davis M.A., University of Massachusetts, Amherst, Instructor in Economics
Peter C. Johnson B.S., University of California, San Diego, Visiting Instructor in Computer Science
Michaela Kubacki M.A., University of Pittsburgh, Instructor in Mathematics
Laura Lesta Garcia M.A., University of Colorado, Boulder, Visiting Instructor in Spanish
James F. Pierce M.A., University of Virginia, Visiting Instructor in Religion
Joshua R. Rodd M.S., Tulane University, Visiting Instructor in Geography
Postdoctoral Fellows/Teaching Fellows/other
Amitava Biswas M.D., Stanford Medical School, Associate Executive in Residence
Jessyka Finley Ph.D., University of California, Berkeley, C3 Postdoctoral Fellow in American Studies
Scotty Hardwig M.F.A., University of Utah, Artist-in-Residence in Dance
Alvin Henry Ph.D., University of California, Berkeley, C3 Postdoctoral Fellow in English & American Literatures
Jennifer Immich M.A., University of Minnesota, Twin Cities, Teaching Fellow in Geography
Nathaniel Nesmith Ph.D., Columbia University, C3 Postdoctoral Fellow in Theatre
Alicia Peaker Ph.D., Northeastern University, Postdoctoral Fellow in Digital Liberal Arts
Teaching Assistants
Aurélie Hattabi University Michel de Montaigna, Bourd 3, France, Assistant in French
Andreana Marchi Federal University of Santa Catarina, Brazil, Assistant in Portuguese
Alexandra Melnikova Yaroslavl State Pedagogical University, Russia, Assistant in Russian
Giulia Negretto University of Ferrara, Italy, Assistant in Italian
Cecilia Núñez Martinez University de Buenos Aires, Argentina, Assistant in Spanish
Alia Shaboun Ain Shams University, Egypt, Assistant in Arabic
Annika Wintzen Johannes Gutenberg University, Germany, Assistant in German
For More Information