Faculty Discuss the Job Market for Humanities Majors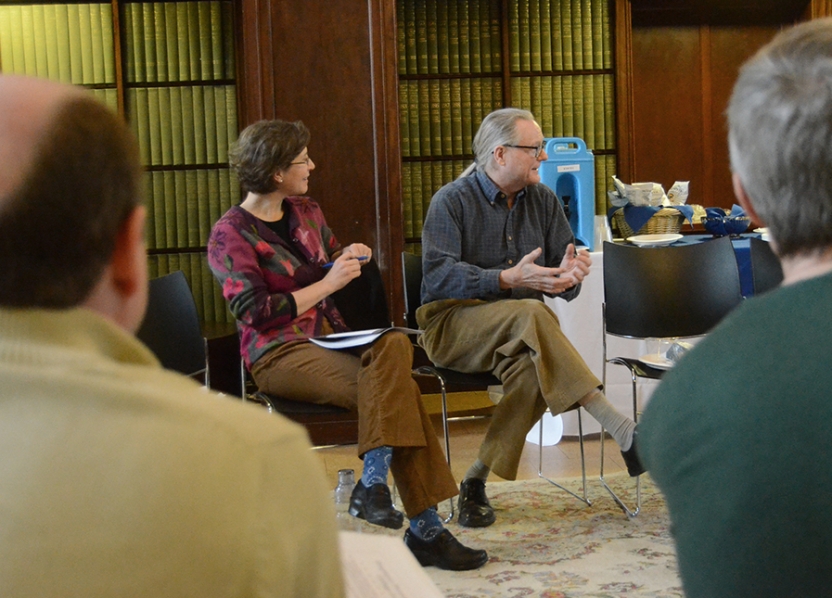 MIDDLEBURY, Vt. – Faculty from the humanities met with staff members from the Center for Careers and Internships (CCI) on March 17 for a wide-ranging discussion about the employment prospects for majors in their academic disciplines.
The CCI staff shared results from a recent American Association of Colleges and Universities study showing that employers overwhelmingly seek to hire college graduates with high-level problem-solving skills, knowledge of democratic institutions and values, oral and written communications skills, teamwork skills, and the ability to contribute to community and society.
Based on the study, 91 percent of employers agreed that a candidate's "demonstrated capacity to think critically, communicate clearly, and solve complex problems" was more important than the candidate's undergraduate major, the CCI staff said.
Peggy Burns, the CCI director, and Amy McGlashan, CCI's director of academic outreach and special projects, showed that the desired outcomes of a Middlebury College education are directly in line with what employers say will lead to success in a rapidly changing global society.
Employers today place high value on innovation, critical thinking, specific knowledge, and a broad range of skills, the CCI staff said, and these capabilities align with Middlebury's focus on critical, creative, and independent thinking; inquiry and analysis; oral and written expression; ethical citizenship; the application of knowledge to solve problems; engagement in independent research, inquiry, or creative expression; and global understanding, i.e., ability to appreciate difference and connectedness among peoples.
At the roundtable discussion, faculty members representing the history, classics, English, Italian, sociology/anthropology, and film and media culture departments peppered the CCI staff with questions and observations, and the CCI staff responded that Middlebury graduates in the fields broadly defined as "the humanities" are getting the services they need from CCI to succeed after graduation.
Now that economics is the most popular major among Middlebury graduates – 112 out of 664 members in the Class of 2014 majored in economics – there is a perception that majoring in economics is the most direct route to a job. As sociology professor Linus Owens pointed out at the meeting, today's students are highly "risk-averse" and majoring in economics is seen as a direct route to a job. "It's hard to dislodge people from that notion," he said.
Risk aversion is contributing to the high number of students who double major or joint major at Middlebury, the faculty said. (Among the 2014 graduates, 17 percent completed the requirements for a double or joint major.) "That's right," one faculty member said. "It's one major for me and one for my parents." Or as Burns put it, "It's one for me and one so I can get a job."
Some faculty at the meeting talked about the value of not going directly into a high-pressure career. It can be a good thing "to embrace the fact that you don't know exactly what you are doing," said Jason Mittell of film and media culture, to go out into the world and have unplanned and unexpected experiences.
Burns said her office encourages students to have those once-in-a-lifetime experiences, "to climb the peaks of South America for example, but we want them to be intentional about it." She spoke about the high aspirations and remarkable achievements of many Middlebury students – a "culture of awesomeness," she called it – and said the CCI staff often encourages students "to just breathe a little."
Timothy Billings, professor of English and American literatures, said he advises students to pursue things that "will be most meaningful and rewarding for you," and he favors "the idea of cultivating that as a new narrative" for soon-to-be Middlebury College graduates. It's okay to move to Seattle, wait on tables, and work on your own writing, he said, if writing is what you really want to do.
Asked about the services provided by the Center for Careers and Internships for graduates with humanities majors, Burns said CCI advisors are capable of guiding all students regardless of their hopes, dreams, or majors. The office has produced a series of fact sheets called "Preparation and Possibilities" tailored to each academic department or program at Middlebury. The booklets outline the learning goals for each major, the on- and off-campus opportunities including internships, and where recent Middlebury graduates in that major are now employed.
CCI is also the leading driver behind the new Sophomore Conference at Middlebury, which is a day of exploration occurring soon after second-year students select their majors.
— With reporting and photo by Robert Keren
For More Information