Completed Inn Renovations Await Bread Loaf Students, Faculty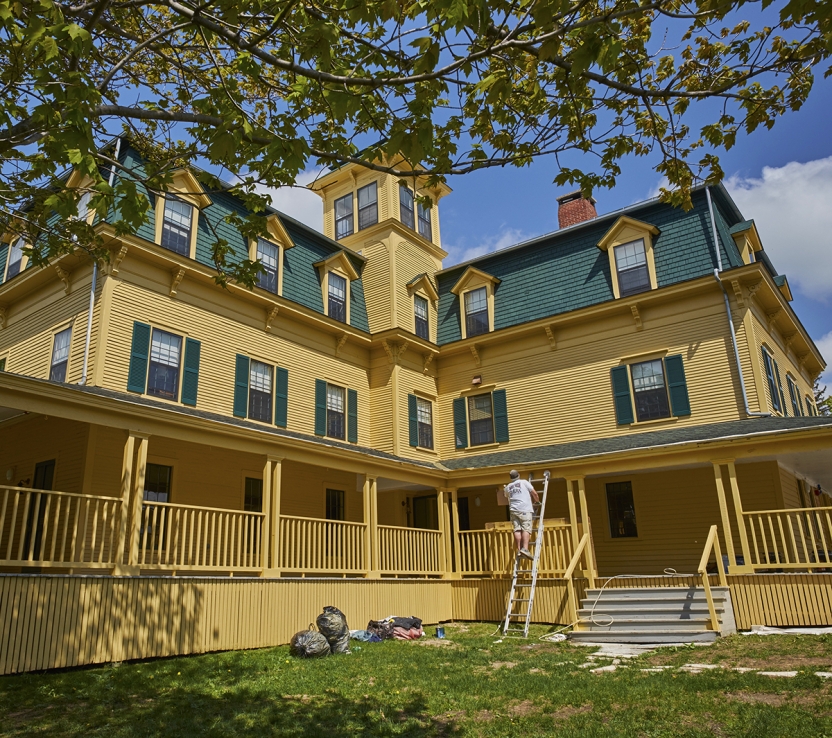 [view:embed_content==496024]
MIDDLEBURY, Vt. — Renovations at Middlebury's Bread Loaf Inn in Ripton are complete and the results are impressive. Although the historic building still retains its charm and character, it has been transformed into a fully winterized, accessible building. With a dining hall, main office, and residential rooms, the inn is a central hub of activity for the Bread Loaf School of English, Bread Loaf Writers' Conference, and numerous other conferences and events.
On a recent guided tour, architect Steve Smith, from the firm Smith-Alvarez-Sienkiewycz, noted that some of the most dramatic changes are not visible when you walk in. For instance, Smith says, almost every floor and wall finish was removed to install new electrical wiring, data, and insulation. Uneven floors were reframed and sagging window and door headers replaced. New efficient heating and cooling systems were installed in the basement, which is now dry and suitable for storage.
Smith says the project was not a restoration in the true sense since the building has been built in increments over many years. However, they did make an effort to be historically accurate when possible.
"We reviewed the project with the state division of historic preservation and agreed to restore the outside, including windows," said Smith. "We tried to retain a historic flavor, but upgrade the building so it works for the College now."
Students and faculty will notice right away the beautifully refinished floors throughout, new lighting, paint, and ceiling fans. Bedrooms are newly furnished with LED lighting and ceiling fans (where they fit). They'll also find an elevator, which makes the building fully accessible.
"We do a lot of renovations, historic and otherwise, but rarely do we see the kind of transformation that we saw with this building," said Smith. "It looks the same on the outside, but the inside transformation surprised even us."
Reporting and slide show by Stephen Diehl; Photography by Brett Simison