Environmental Luminaries Help Mark 50th Anniversary of ES Program
MIDDLEBURY, Vt. — "You have a tremendous opportunity to make change." That was CNN correspondent, bestselling author and founder and president of Dream Corps Van Jones's message to students, faculty, staff and community members who crowded Mead Chapel on Oct. 8.
The keynote speech was one in a series of lectures, performances, and conversations last week marking 50 years of visionary environmental leadership and education at Middlebury College.
In his address, "Green Jobs, Not Jails: Criminal Justice Ecology," Jones spoke passionately — and sometimes tearfully — about a personal journey that took him from Oakland, California, to the White House, on the quest for green jobs and social equality. That journey landed him on the New York Times bestseller list — and, at one point, in the crosshairs of conservative political pundits.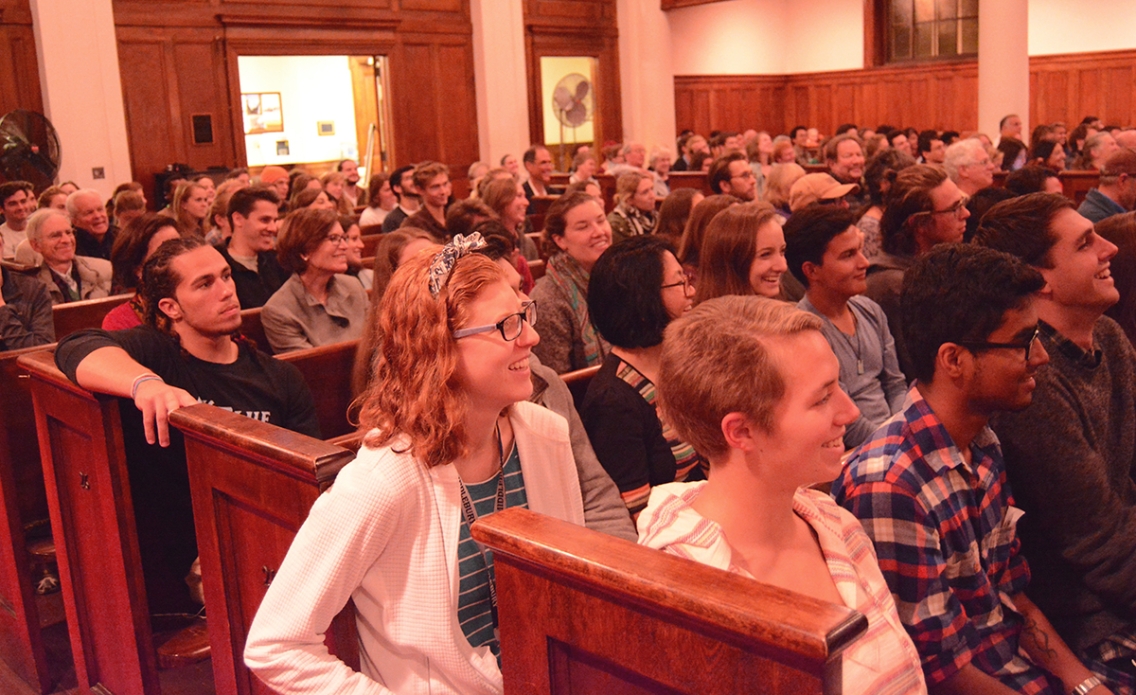 Students at Mead Chapel react to the keynote address given by Van Jones.
Jones, who received two standing ovations over the course of his lecture, urged students to "find the place in your heart that doesn't get tired."
"There's some future out there where we can fight pollution and poverty at the same time," said Jones. He pointed out that Americans emit 25 percent of the world's greenhouse gases, and jail 25 percent of the world's incarcerated population.
"You are in the age of mass extinction of our sister and brother species, and mass incarceration of our sisters and brothers," said Jones. In a time of radical ecological instability and economic inequality, he said, we can no longer fight our battles in isolation.
"If you try to solve one problem without solving the other problem," Jones said, "you lose."
This conversation — about the evolving future of environmental activism and education — blossomed on campus last week, as Middlebury marked the 50th anniversary of the founding of the Program in Environmental Studies.
As the country's fledgling environmental movement took root in the 1960s, five Middlebury College professors hatched a plan. They imagined a new academic course of studies for students, unlike any other in the college's history: an interdisciplinary Program in Environmental Studies in which students could pull from both science and the humanities in their quest for a better understanding of the natural world.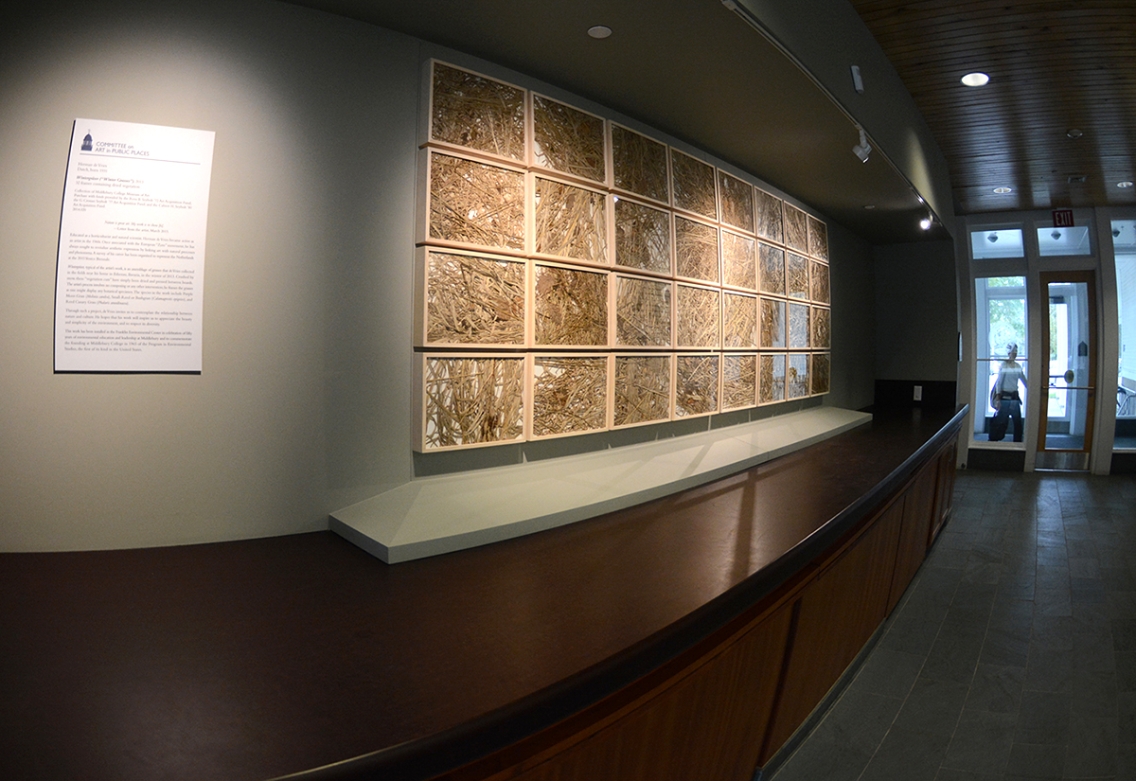 The Franklin Environmental Center dedicated a piece of art titled wintergräser by the Dutch artist herman de vries.

The resulting program was the first of its kind in the nation, and today is the oldest continuous undergraduate ES program in the country. More broadly, the anniversary serves as the occasion for celebrating and reflecting on Middlebury's five decades of environmental leadership and education.
These were five decades that brought with them significant achievement for the college, notes Dean of Environmental Affairs Nan Jenks-Jay. Middlebury established a recycling program; pledged itself to achieving carbon neutrality, a goal the College is on track to meet in 2016; and conserved roughly 2,100 acres of the Bread Loaf lands for perpetuity. Middlebury is host to a new summer School of the Environment, as well as the Bread Loaf Orion Environmental Writers' Conference.
Inside the classroom and out, environmental education on campus has expanded to include areas of study as diverse as food systems, social justice, and the creative arts. Students have built solar-powered houses, campaigned successfully for the creation of a biomass plant, and laid the groundwork for revolutionary climate activism.
Today, more than 80 professors from 28 departments contribute to the ES program, and the ES major is among the most popular at the college. More than 2,000 alumni from both the ES program and other majors hold careers in environmental and sustainability work across the globe.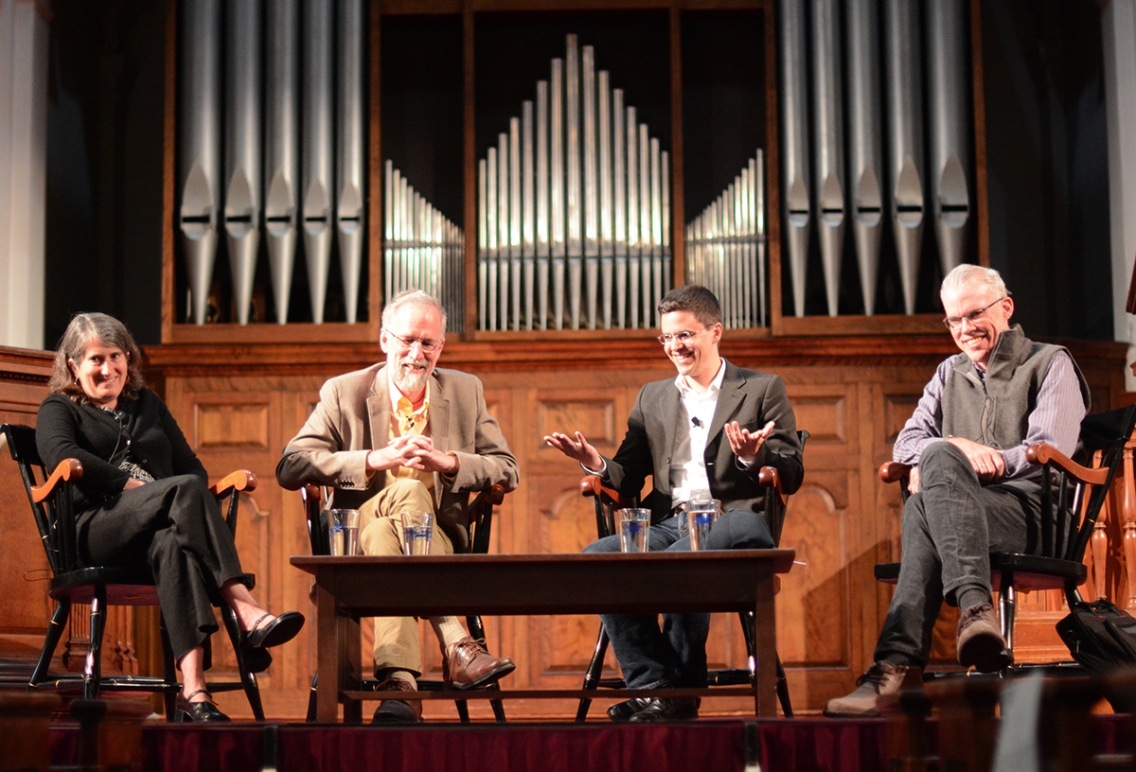 A panel moderated by Bill McKibben (right) discussed the future of environmental studies. Panelists included Rachel Morello-Frosch, William Cronon, and Gernot Wagner.
And yet the week's events were tuned less to congratulatory reminiscing, and more to the future. "It's a time to think about what's next and charge forward," said Jenks-Jay. The road ahead calls for perseverance, adaptivity, and inclusion, she said.
What's next for Middlebury will, in part, include three new Middlebury global partnerships in sustainability. College President Laurie L. Patton introduced the partnerships — based at schools abroad in Chile, China, and Japan — during her introductory remarks to Jones's speech.
A collaboration between International Programs & Off-campus Study, the Office of Sustainability Integration, and the Franklin Environmental Center, the programs will explore sustainability programming and applied learning experiences — ranging from the study of ecotourism to research into sustainable economic opportunities — on the ground in the host countries.
Additionally, the first-ever President's Course — a Middlebury-wide class, designed for students, faculty, staff, and the community, and slated for next year — will tackle environmental issues. ("What East Coast people call 'a wicked problem' and West Coast people call a 'gnarly problem,'" quipped Patton.)
Looking ahead to the ways Middlebury can lead and inspire in environmental education, "we pledge ourselves to work that is yet to be done," said Patton.
Other events this month commemorating Middlebury's 50 years of environmental leadership included:
A lecture on Public Art and the Environment: herman de vries' wintergräser, by Middlebury Director of the Arts Pieter Broucke.
Performances of "Garden," a dance by Tzveta Kassabova with the Dance Company of Middlebury; the large-scale, site-specific installation on the lawn in front of Mead Chapel celebrated the passage of knowledge and hope from one generation to another.
A keynote conversation about the future of Environmental Studies hosted by Schumann Distinguished Scholar at Middlebury Bill McKibben.
A "world cafe" inclusive dialogue for students, faculty, staff, and guests.
More information about ongoing and upcoming events commemorating the anniversary is available from the Environmental Studies program: http://www.middlebury.edu/academics/es/news/celebrate-50-years/schedule.
With reporting by Kathryn Flagg, Photos by Robert Keren