Hart, Morse Explore Alternative Forms of Historical Scholarship
MIDDLEBURY, Vt. – Breaking the mold for traditional classroom learning, William Hart and Kathryn Morse — professors in history, and history and environmental studies, respectively — led groups of students last year in collaborative, curatorial exhibits that reimagined the way students can approach historical scholarship in and beyond the classroom.
Those ventures were the topic of a joint lecture on October 21. In the second address of this year's Carol Rifelj Faculty Lecture Series, the two professors spoke about the process, practicalities, and possibilities of taking an unconventional approach to historical scholarship in their classrooms.
"Both Kathy and Bill have been engaged in experiments in their classes," said Dean of Faculty Development and Research Jim Ralph in his introductory remarks. "That they have been doing that, that they have been devoting their time, energy, and talents to trying new things in their teaching, is not at all surprising. … They are impressive educators. They care deeply about their students, and they are constantly exploring new ways to make connections between the content of their courses and their students."
Speaking first, Hart related the experience of curating an art show for the Middlebury College Museum of Art, a project he undertook with students in a survey history class focusing on African American history. Working with 100 photographs taken between 1840 and 1969 from the George R. Rinhart collection, Hart curated "Many Thousand Gone: Portraits of the African-American Experience," which remained on display between May and August this year.
Hart charged his students with selecting a photograph from the collection, and then finding primary sources to formulate a history paper.
"Photographs carry meaning," said Hart. "I believe that the students in my African American history class this past spring expanded for themselves their knowledge of the African American past by writing about these photographs. … These photographs brought to them an immediacy of the past that mere words cannot."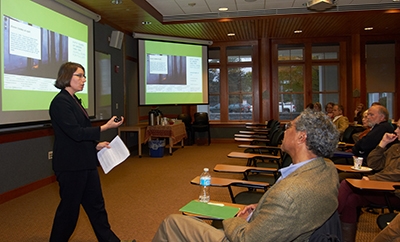 Professor of History Kathryn Morse describes the digital exhibit she and her students created.
In a similar curatorial undertaking, Morse and her students together created the online exhibit "50 Years of Green: An Environmental History of Middlebury College Since 1965." The students built an online, searchable archive of primary sources, and crafted a timeline and synthesis for understanding those sources.
Morse described the project as part storytelling, part historical research — and plenty of fun. The idea for the project came in part, Morse said, both from the hope of helping students "place themselves in history," and from an interest in alternative forms of historical scholarship.
Both Hart and Morse agreed that their students were excited about the opportunity of reaching a wider audience with their scholarship.
"The stakes are higher," said Hart. "They're writing not just for me … but for public consumption."
Named in memory of Carol de Dobay Rifelj, a French professor who came to Middlebury in 1972 and retired in 2010, the Carol Rifelj lecture series provides a forum for faculty to discuss their own research and academic endeavors among peers. The series is open to the public, and information about upcoming lectures can be found online here.
With reporting by Kathryn Flagg, Photos by Todd Balfour.