Maureen Hill, Counselor-in-Training
she/her/hers
Counselor in Training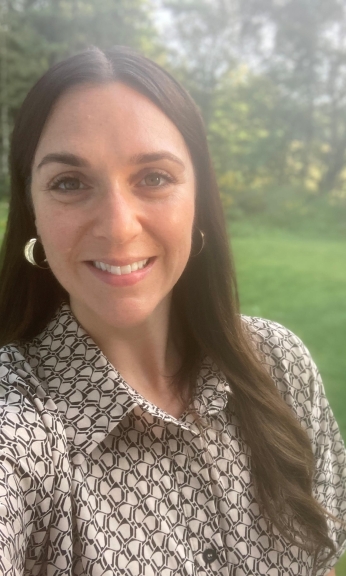 Office

Counseling-Centeno House & Service Building 214

Tel

Email

Office Hours

T 8:30-3:00, W 8:30-2:45, Th 8:30-12:00
Additional Programs
Hello everyone! My name is Maureen, and my pronouns are she/her/hers. I identify as a white woman.  I am thrilled to be a Counselor in Training here in the Counseling Center. 
I am currently starting my third and final year in my MS Clinical Mental Health Counseling program at Vermont State University. I completed my undergrad in Global Studies in 2010.  Prior to attending graduate school, I worked in public education as a Behavior Interventionist specializing in providing restorative practices to students and staff. I am trained in Restorative Justice Conferencing, and deeply believe in supporting individuals and communities to repair and restore connection after rupture with dignity, honesty, and kindness. In my work with restorative practices, I provided mental health support to individuals and found it was my favorite part of the work I was doing. I decided to pursue a graduate degree in counseling, and I am so glad I did!  I believe each person has inherent value and worth and that all folks deserve access to support and encouragement while navigating the challenges of life. My approach is person-centered and focused on building trust and authenticity within the therapeutic relationship. I believe self-compassion, mindfulness, and curiosity can help individuals identify their values and goals and feel empowered to find healing and wholeness in their lives. 
Spending time with my family, traveling, and cooking delicious foods are things that bring me lots of joy! I love walking outside and enjoying the beautiful 4 seasons here in Vermont. I live here in Middlebury with my partner and our three children.