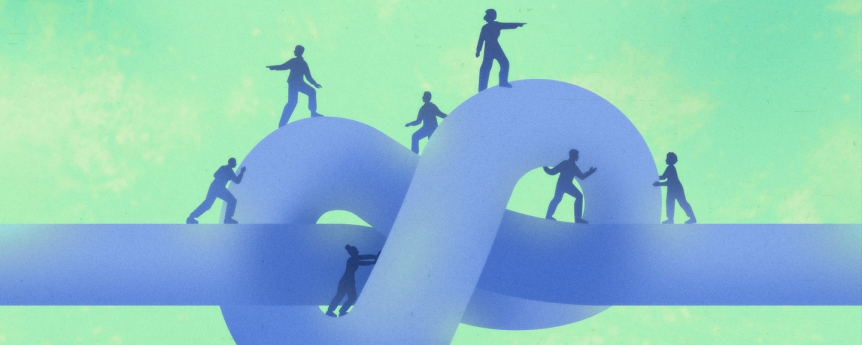 Conflict Transformation
Conflict is part of the human experience. High conflict can strain relationships and destroy communities. These dynamics can shift, however, so that conflict acts as a positive force that keeps our social structures responsive to human needs and aspirations.
This year's Clifford Symposium provides a space to explore how to make these transformations—in ourselves and in the world. John Paul Lederach will offer insight into the study and practice of conflict transformation (CT). Our faculty, staff, and students will describe how the lens of conflict transformation can generate new projects or offer a new approach to our current work. We will offer mini-workshops on Saturday that display conflict transformation skills in action.
This is a wide invitation to the Middlebury community, prompted by the 2022 launch of the Kathryn Wasserman Davis Collaborative in Conflict Transformation. Come hear about initial efforts in CT at Middlebury, help identify the conflicts that are salient for this community, and join us as we imagine how our engagement with conflicts can produce positive social change.
2022 Schedule
Panel Discussion: Conflict Transformation
Dan Brayton, Julian W. Abernethy Professor of Literature
Jeff Howarth, Associate Professor of Geography
Jon Isham, Professor of Economics and Environmental Studies
Monica Przyperhart, Visiting Laboratory Professor in Environmental Studies
Dana Auditorium (and livestream)
Conflict Transformation: The Challenge and Promise of This Century
Into the Heart of Racial Conflict: How Critical Dialogue and Collective Action Transforms Communities
The last decade has witnessed awakened calls for intervention against the violence and dehumanization inflicted upon Black communities. This moment of reckoning has evoked expressions of America's grimmest reactive fears as well as new freedom dreams about what a multiracial democracy can look like. This talk tells a story of a community that chose to move into the heart of racial conflict in a small town with a small college. Rooted in Black traditions of rights-based dialogues about race, their work enacted a process of nonviolent communication and action that offers us a model for campus-to-town partnerships for transformative justice and racial reconciliation.
Hilary Mullins: Transformation and Power: Salvaging the Self after Sexual Abuse
Hilary is the protagonist in Professor James Chase Sanchez's forthcoming documentary on sexual abuse in boarding schools. 

Conflict transformation and the study of sexual abuse both shed light on the misuse of power. In this talk, I will explore a path forward that connects them both through nondefensive communication. First, drawing from my own experience as a survivor, I examine how the grooming of sexual predators siphons away a child's sense of self and agency, undermining their ability in the long run to stand their ground, even in everyday conflicts. Next, I will discuss a way to reclaim our power in these interactions through nondefensive communication, a practice that teaches us that real power stems not from winning but from an open and transparent sharing of information. 
Seeing Our Work at Midd through the Lens of Conflict Transformation
Netta Avineri, Associate Professor, TESOL/TFL, Intercultural Competence Committee Chair
Kailee Brickner-McDonald, Program Director, Center for Community Engagement
Katharine DeLorenzo, Borgen Family Head Coach of Field Hockey, Assistant Athletic Director
Melissa Hammerle, Visiting Assistant Professor, Education Studies
Craig Maravich, Program Director, Beyond the Page
Mark Orten, Director of Scott Center, Dean of Spiritual and Religious Life, Chaplain of the College

Moderated by Sarah Stroup, Executive Director, KWD Collaborative in Conflict Transformation
Dance Theater in Mahaney Arts Center
Performance by Christal Brown and Lida Winfield
Same But Different is a dance-theater performance created and performed by Christal Brown and Lida Winfield. The scholar-artists explore their similarities and differences in a cultural commentary on race, age, and gender. The performance is a reflection of their lived values, artistic practices, and communal existence.
Restorative Practices with Brian Lind and Renee Wells
MAC 209

In this session, participants will learn about restorative practices as a framework for building community and responding to harms through an anti-oppression lens. Participants will explore restorative practices as a collection of tools for strengthening relationships and holding space for deeper understanding as well as a continuum of restorative responses to harms that occur within any community. Case studies will provide an opportunity to identify and propose options for resolution.
Dialogic Practices with Sarah Stroup
MAC 221

In this session, participants will first experience and then learn about dialogic practices. Whether we are trying to just understand one another or to address a conflict or problem, real listening is difficult. Dialogic practices help create situations in which people speak to be understood and listen to understand. We will briefly discuss how faculty were trained in these skills in the Engaged Listening Project and discuss how this work will be refined and expanded in the CT Collaborative.
Dr. Netta Avineri with Intercultural Communications
MAC 125

Critical Intercultural Communication: Sitting in Tension, Setting Intention

In this interactive session, we will focus on a critical approach to intercultural communication that moves beyond simply understanding one another's perspectives and towards meaningful social change and conflict transformation. We will explore one another's cultures, negotiate a set of community agreements, and consider existing frameworks for intercultural communication at multiple scales. The roles of identity, intersectionality, language, humility/expertise, power, and context in cultivating partnerships for social change will be foregrounded in our collective dialogue. We will apply the critical intercultural communication methodology "sitting in tension and setting intention" to specific case studies/scenarios relevant to our educational practice and complex problem solving in the real world. Ultimately, our focus during the session will be the development of knowledge, skills, and dispositions for critical intercultural communication, recognizing that justice is relational and aspirational.
Linda White Offering Aikido: Practicing Embodied Responses to Conflict
MAC 109

By practicing aikido moves called kata we engage the central principles of this Japanese martial art, namely, breathing to engage the full body, responding to an attack with a centered, calm body, resolving others' aggression with movement, breath, and redirection, and protecting attackers from themselves. The workshop will include basic breathing practice, simple movements to train the body to respond to attacks, and demonstration of more advanced techniques. Please wear comfortable clothes without tight belts or jewelry.  There will be time for Q and A at the end. Aikido is for Every Body—please feel welcome to participate at your level of comfort. 
Christal Brown and Lida Winfield
Dance Theatre, MAC

Same But Different: Talkback about the performance the previous evening as well as a workshop in which Christal Brown and Lida Winfield will explore the techniques of visual storytelling, embodied truth and personal narrative. All bodies, backgrounds and abilities welcome.
Continental breakfast provided for those attending the concurrent sampling sessions.