2022 Annual International Politics and Economic Symposium
–
Robert A. Jones '59 Conference Room
148 Hillcrest Road
Middlebury, VT 05753
View in Campus Map
Open to the Public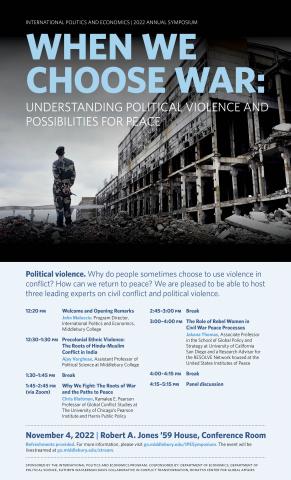 When We Choose War: Understanding Political Violence and Possibilities for Peace
This year's symposium focuses on political violence. Why do people sometimes choose to use violence in conflict? How can we return to peace? We are pleased to be able to host three leading experts on civil conflict and political violence. 
Ajay Verghese, Assistant Professor of Political Science at Middlebury College
Chris Blattman (via Zoom), Ramalee E. Pearson Professor of Global Conflict Studies at The University of Chicago's Pearson Institute and Harris Public Policy
Jakana Thomas, Associate Professor in the School of Global Policy and Strategy at University of California San Diego and a Research Advisor for the RESOLVE Network housed at the United States Institutes of Peace.
This event will be livestreamed at http://go.middlebury.edu/stream. Please click here for more information on this year's symposium.
Sponsored by:

Rohatyn Center for Global Affairs; Economics; Int'l Politics & Economics; Political Science; Kathryn Wasserman Davis Collaborative in Conflict Transformation