Afghanistan and the Future of Girls' and Women's Education - Shabana Bisaj-Rasikh in coversation with President Patton
–
Wilson Hall, McCullough Student Center
14 Old Chapel Road
Middlebury, VT 05753
View in Campus Map
Closed to the Public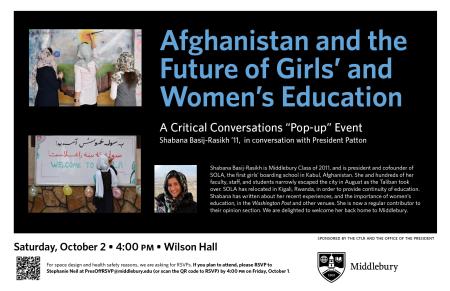 Shabana Bisaj-Rasikh is the president and co-founder of SOLA, the first girls' boarding school in Kabul, Afghanistan. She and hundreds of her faculty, staff, and students narrowly escaped the city in August as the Taliban took over. SOLA has relocated in Kigali, Rwanda, in order to provide continuity of education. Shabana has written about her recent experiences, and the importance of women's education, in the Washington Post and other venues. She is now a regular contributor to their opinion section.  We are delighted to welcome her back home to Middlebury.  
For space design and health safety reasons, please RSVP by 4 p.m., Friday, October 1, 2021 at presoffrsvp@middlebury.edu
This event will be live streamed at http://www.middlebury.edu/midd-stream                                                Middlebury credentials are required to view the stream.
A Critical Conversations "Pop-up" Event
Sponsored by the CTLR and the Office of the President
Sponsored by:

President of the College