Anikaya Dance Theatre: Conference of the Birds
–
Mahaney Arts Center Dance Theatre
72 Porter Field Road
Middlebury, VT 05753
View in Campus Map
$25/$20/$10/$5
Open to the Public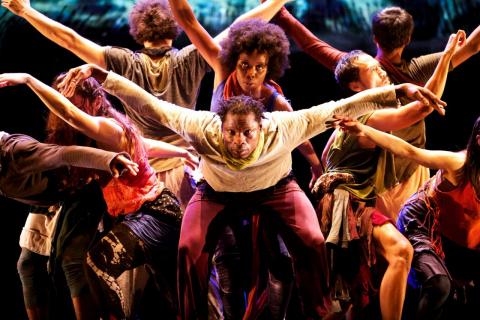 Conference of the Birds is an evening-length, multi-media movement theater work inspired by the epic poem of Farid Ud din Attar, embodying modern-day stories of migration. Attar's The Conference of the Birds is the tale of a group of birds that set off in search of a mythical being, the Simurgh. Many of the birds abandon the quest. When the remaining birds arrive in the land of the Simurgh, they find themselves reflected—they are the very deity they seek. Created by a team of artists from ten countries and five continents, Anikaya's performance takes Attar's original Persian poem and reweaves a story of our times: a tale of migration, of finding our way, of finding community through and in our struggles. The performance asks a question that is both timely and timeless: how can we be different together? And it proposes an answer in the bodies of the dancers, and in the layering of voices, narratives, and imagery.
This live, in-person event is open to on- and off-campus audiences. Vaccinations and masks required. Additional health and safety information here. Performance subject to change.
General Admission Tickets:
$25 General public | $20 Middlebury ID holders | $10 Youth (Under 21) | $5 Middlebury students
The series event is supported by the Dance Department and funded in part by the New England States Touring program of the New England Foundation for the Arts, made possible with funding from the National Endowment for the Arts Regional Touring Program and the six New England state arts agencies.
Sponsored by:

Performing Arts Series; Dance