Art vs. the Apocalypse presents "The N Word: Nature, Revisited"
–
Axinn Center 232
Old Chapel Road
Middlebury, VT 05753
View in Campus Map
Open to the Public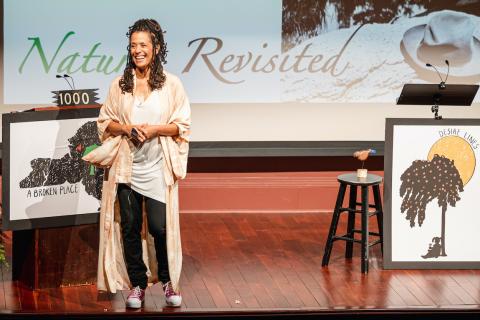 Join Dr. Carolyn Finney, Artist-in-Residence, Environmental Affairs, for a unique presentation that brings her life in conversation with historic figures and contemporary issues. Central Park birder Christian Cooper. George Floyd. The removal of Confederate Statues. Renaming of institutions. Reparations. Systemic Racism. Finney asks, what's environment got to do with it? How do we meet this moment? Drawing from her book, Black Faces, White Spaces, her relationships "in the field" and her lived experience, Dr. Finney explores the complexities and contradictions of our past, the realities of our present and the possibilities of our future as it relates to green space, race, and the power to shape the places we live in our own image. By engaging in "green" conversations with Black people from around the country, she considers the power of resistance and resilience in the emergence of creative responses to environmental and social challenges in our cities and beyond.
Sponsored by the Department of Theatre, Environmental Affairs, Council for the Arts, and the Climate Action Capacity Project.
Sponsored by:

Arts Council; Environmental Affairs; Theatre