Behind the Scenes: Marcia Collaer and Anthony Richardson
–
Davis Family Library Center for Teaching, Learning and Research
110 Storrs Road
Middlebury, VT 05753
View in Campus Map
Open to the Public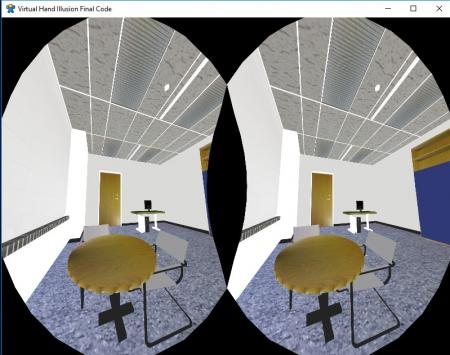 Join us on Thursday, March 23rd from 12:30-1:30 for our next Behind the Scenes presentation. Professors of Psychology Marcia Collaer (Middlebury College) and Anthony Richardson (Saint Michael's College) will present their work exploring the development of body ownership as assessed in the virtual world. Their work extends investigations of the rubber hand illusion into digital space. The traditional rubber hand illusion explores sensory and perceptual factors that give rise to a sense of 'body ownership' that can develop for an inanimate object (e.g., a rubber hand/arm). Extending these questions to virtual reality via a head mounted display allows them to investigate additional factors that may influence the degree of body ownership that develops. Specifically, they are investigating how agency, in the form of voluntary motion, and 'naturalness', the degree to which the object looks similar to or different from a hand influences how easily a person can feel like the object belongs to their own body. Marcia and Tony will be talking about the collaborative aspects of the project, the benefits of using VR for their research, and the process of using digital tools (many developed by Mayra Alvarez, a St. Michael's student) to build their experiment.
This talk is co-sponsored by the Green Mountain Higher Education Consortium. We look forward to continuing last month's theme of collaboration and sparking engaging dialogue with our neighboring institutions!
Lunch will be provided. Please RSVP at http://go.middlebury.edu/DLARSVP so we can order enough food.
Sponsored by:

Center for Teaching, Learning and Research

Related URL: