–
Mahaney Arts Center, Olin C. Robison Concert Hall
72 Porter Field Road
Middlebury, VT 05753
View in Campus Map
Tickets: $25/20/15/10/5
Open to the Public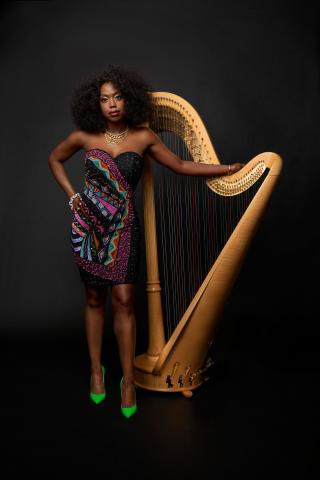 This sonically-innovative harpist is revolutionizing her instrument for the digital era. Over the past 15 years, she has worked relentlessly to stretch boundaries and limitations for harpists. In 2022, she made history by becoming the first black woman to be nominated for a Grammy Award for Best Instrumental Composition. That same year, she was also nominated for an NAACP Image Award. Her trio's Vermont debut at Middlebury will include jazz standards and original works.
"No harpist thus far has been more capable of combining all of the modern harp traditions—from Salzedo, through Dorothy Ashby, through Alice Coltrane—with such strength, grace and commitment."—saxophonist Ravi Coltrane
Learn more about the artist: brandeeyounger.com
Watch a video: https://youtu.be/lW2cUz9Gz94?t=715
Program: to be announced. One 75-minute set, no intermission.

Tickets: $25 general public | $20 Middlebury ID holders | $10 Youth (Under 21) | $5 Middlebury students. General admission. Approximate running time: TBA
Streaming-only tickets: $15 | $5 Middlebury students
Buy tickets: http://go.middlebury.edu/tickets
48-hour access to the performance stream available starting Friday, December 1 at 7:30 PM ET. Streaming ticket sales are available only until the start of the live performance.
About streaming and sound: Our streams are meant to capture the "sound in the room" without post-production sound editing. Bear in mind the sound quality will not compare to a studio recording.
Performance subject to change.
Sponsored by:

Performing Arts Series