Carbon Technocracy: Energy Regimes in Modern East Asia
–
Virtual Middlebury
Open to the Public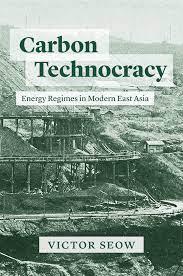 The Rohatyn Center for Global Affairs program on Global History presents Victor Seow and "Carbon Technocracy: Energy Regimes in Modern East Asia."
Victor Seow is a historian of technology, science, and industry. He specializes in China and Japan in the long twentieth century and in histories of energy and work. His research revolves around questions of how technoscientific developments intersect with economic life and environmental change in the making and unmaking of industrial society. Seow is the author of Carbon Technocracy: Energy Regimes in Modern East Asia (Chicago: University of Chicago Press, 2022), a study of the deep links between energy extraction and technocratic politics through the history of what was once East Asia's largest coal mine. In delving into the origins of fossil-fueled development in China and Japan, Seow's book unearths both the dominant role of the state in energy transitions toward coal and oil and the enduring reliance on human labor power in the carbon age.
Co-sponsored by Global Security Studies and Global Environmental Change.
To join this webinar, please use this Zoom link or visit the Rohatyn Center for Global Affairs events.
Sponsored by:

Rohatyn Center for Global Affairs; History; East Asian Studies; Global Environmental Change