Carol Rifelj Faculty Lecture Series: "Arribada--A reading"
–
Franklin Environmental Center, The Orchard-Hillcrest 103
531 College Street
Middlebury, VT 05753
View in Campus Map
Open to the Public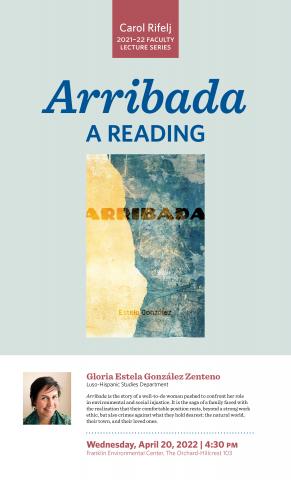 Gloria Estela González Zenteno, Luso-Hispanic Studies Department
Mariana Sánchez Celis has traveled the world as a pianist trained at the Juilliard School of Music. But when her mother has a stroke and her beloved uncle suddenly disappears, Mariana must put her life on hold to return to her home in Ayotlan, Mexico.
She soon discovers her town is no longer the place she remembers. Ayotlan's beaches, sea turtle colonies, and historic center are decimated under decades of neglect and abuse. What part did her late father have in this? And could it be related to her uncle's disappearance?
When Fernanda Lucero, a member of the indigenous Concáac people, convinces Mariana to join her sea turtle and architectural conservation projects, the deepening love between Mariana and Fernanda threatens to put them both further in harm's way. This, together with the web of secrets Mariana unravels, stands to radically transform her and her family's fate.
Arribada is the story of a well-to-do woman pushed to confront her role in environmental and social injustice. It is the saga of a family faced with the realization that their comfortable position rests, beyond a strong work ethic, but also crimes against what they hold dearest: the natural world, their town, and their loved ones.
Vaccinations and masks required.
Sponsored by:

Academic Affairs