Choral Chameleon: Healing Choral Sound Bath
–
Mahaney Arts Center, Olin C. Robison Concert Hall
72 Porter Field Road
Middlebury, VT 05753
View in Campus Map
$25/20/10/5
Open to the Public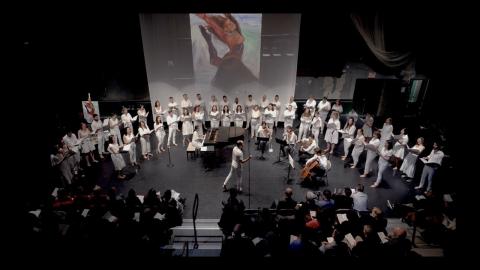 Choral Chameleon Chorus makes its Vermont debut with a sound bath: a unique, healing choral experience. Collaborating with certified sound healers, the audience will be surrounded by the singers of the chorus and "bathed" in the layered sounds of voices, Tibetan singing bowls, chimes, gongs, and more. This intensive sound experience is designed to wash over the body for healing, peace, and restorative contemplation. Because of the unique audience seating configuration designed for this concert experience, capacity will be limited. Learn more about this one-of-a-kind event. Choral Chameleon will also return to the MAC in the spring for a more traditional concert.
No latecomer seating. This concert will also be audio streamed. Performance subject to change. 
Reserved Seating Tickets: (includes live performance and access to performance stream) $25 General public | $20 Middlebury ID holders | $10 Youth (Under 21) | $5 Middlebury students
Audio Streaming-only Tickets: $10 | $5 Middlebury students
48-hour access to the performance audio stream available starting Saturday, October 29 at 4:00 PM ET.
Streaming ticket sales are only available until the start of the live performance.
About streaming and sound: For this performance, listening with headphones is recommended. Our streams are meant to capture the "sound in the room" without post-production sound editing. Bear in mind the sound quality will not compare to a studio recording.
Vaccinations and boosters (or valid medical or religious exemptions) required. Masks optional (but welcome!) except under certain conditions.
Sponsored by:

Performing Arts Series

Related URL: