–
Mahaney Arts Center, Olin C. Robison Concert Hall
72 Porter Field Road
Middlebury, VT 05753
View in Campus Map
Tickets: $25/20/15/10/5
Open to the Public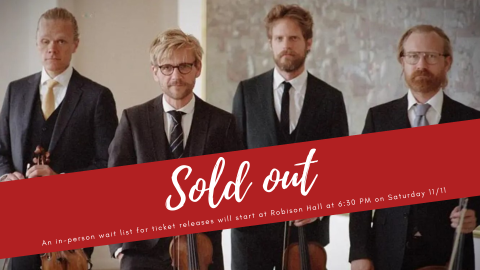 Named "one of the best string quartets before the public today" by the Washington Post, the Danish String Quartet certainly made an impression when first performing here in 2017: Our sold-out audience gave them a standing ovation before we even hit intermission, and audiences have been asking for their re-engagement ever since. Join us for a mixed program that's worth the wait: works by Purcell, Haydn, and Shostakovich, plus the quartet's acclaimed arrangements of Nordic folk music.
Longtime friends and virtuosic musicians, these self-described "relatively bearded Scandinavians, sometimes mistaken for Vikings" have been playing as a quartet for over 20 years. They are renowned for impeccable musicianship, sophisticated artistry, exquisite clarity of ensemble, and, above all, and an unmatched ability to play as one. They exude a palpable joy in music-making that has made them one of today's most highly acclaimed and in-demand classical quartets, performing sold-out concert halls around the world.
"They could be grounded in their tone or mystical. They allowed time to stand still, and they could assume the pose of excitingly aggressive rockers. They did it all."—Mark Swed,?Los Angeles Times
Learn more about the artists: www.danishquartet.com
Watch a video: https://youtu.be/ddDy8FJhsfs
Program:
Henry Purcell: Chaconne in G Minor
Joseph Haydn: String Quartet in G Minor, op. 20 no. 3
Dmitri Shostakovich: Quartet No. 7 in F-sharp Minor, op. 108
Nordic folk music arrangements
Tickets: $25 general public | $20 Middlebury ID holders | $10 Youth (Under 21) | $5 Middlebury students. General admission. Approximate running time: 90 minutes, including one intermission. Buy tickets: http://go.middlebury.edu/tickets
Performance subject to change.
Sponsored by:

Performing Arts Series