–
Wilson Hall, McCullough Student Center
14 Old Chapel Road
Middlebury, VT 05753
View in Campus Map
Open to the Public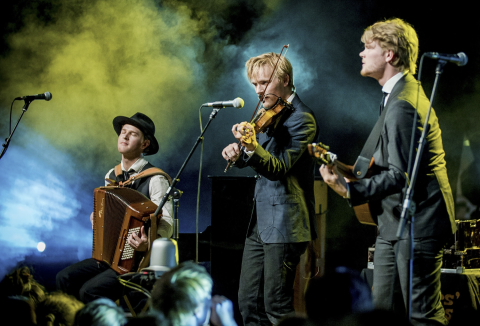 This ambitiously inventive Nordic trio is one of the world's most talked-about acts in the acoustic realm. Their hit "The World Was Waiting" feels spot-on, as we've been eagerly awaiting their return ever since their joyous, sold-out Middlebury performance in March 2020, just before the pandemic hit.
They mine their solid backgrounds in traditional and roots music to present a genre-bending amalgam of folk sensitivity, jazz-tinged improvisation, and classical complexity, all distilled through an openness to popular music influences. They display virtuosic and incendiary musical abilities across a range of instruments that includes fiddle, accordion, piano, and cittern.
"This is music that paints images in your mind, that fires the imagination…Dreamers' Circus celebrate more than the colour and vibrancy of Scandinavian music, they celebrate the ability it has to drive inspiration and innovation, and place themselves firmly in the vanguard of that movement."—Folk Radio
Learn more about the artists: https://dreamerscircus.com/
Watch a video: https://youtu.be/FkgEwnjVREg
Program: to be announced from the stage by the performers. The nature of Dreamers' Circus' music is essentially spontaneous, and the band prefers to change and vary their program from show to show.
Tickets: $25 general public | $20 Middlebury ID holders | $10 Youth (Under 21) | $5 Middlebury students. General admission. Approximate running time: 1 hour, 45 minutes, including one intermission.
Streaming-only tickets: $15 | $5 Middlebury students
48-hour access to the performance stream available starting Saturday, October 7th at 7:30 PM ET. Streaming ticket sales are available only until the start of the live performance. 
About streaming and sound: Our streams are meant to capture the "sound in the room" without post-production sound editing. Bear in mind the sound quality will not compare to a studio recording.
Buy tickets: http://go.middlebury.edu/tickets
Performance subject to change.
Sponsored by:

Performing Arts Series