Economics of Philanthropy: How to Give Away 100 Million Dollars?
–
Robert A. Jones '59 Conference Room
148 Hillcrest Road
Middlebury, VT 05753
View in Campus Map
Open to the Public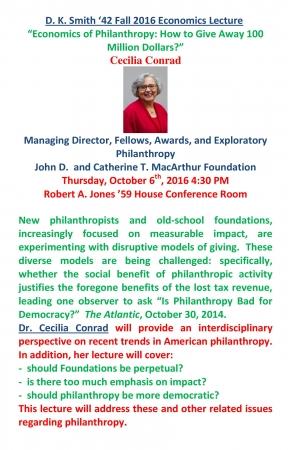 D.K. Smith '42 Fall 2016 Economics Lecture by Cecilia Contrad, Managing Director, Fellows, Awards, and Exploratory Philanthropy John D. and Catherine T. MacArthur Foundation
New philanthropists and old-school foundations, increasingly focused on measurable impact, are experimenting with disruptive models of giving. These diverse models are being challenged: specifically, whether the social benefit of philanthropic activity justifies the foregone benefits of the lost tax revenue, leading one observer to ask "Is Philanthropy Bad for Democracy?" The Atlantic, October 30, 2014.
Dr. Cecilia Conrad will provide an interdisciplinary perspective on recent trends in American
philanthropy. In addition, her lecture will cover:
- should Foundations be perpetual?
- is there too much emphasis on impact?
- should philanthropy be more democratic?
This lecture will address these and other related issues regarding philanthropy.
Sponsored by:

Economics