EVERYBODY, a play by Branden Jacobs-Jenkins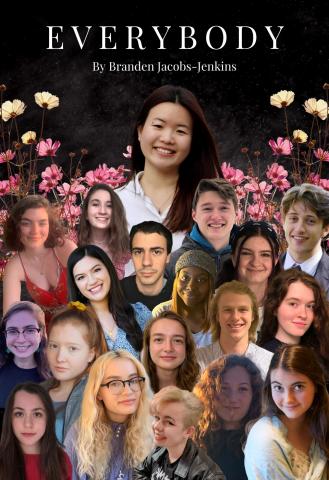 The Middlebury College Department of Theatre season continues with a lively production of EVERYBODY by Branden Jacobs-Jenkins, "one of this country's most original and illuminating writers" (NY Times).
This modern riff on the 15th century morality play Everyman follows "Everybody" as they travel toward life's greatest mystery. So many questions arise along the journey. Why leave now? What can Everybody bring? Who will come with them? When will they return? Middlebury College's version, directed by new Theatre faculty Olga Sanchez Saltveit, is a site-specific trek in and around Wright Theatre, and a collaboration with the Department of Dance, featuring original choreography and performance by The Dance Company.
The production will be presented live by a company of 17 actors and 9 dancers before a limited in-person audience restricted to college students, faculty and staff. Its recording will be streamed to the general public on Wednesday, May 19th through Friday, May 21st. The performance runs approximately 90 minutes with no intermission.
Sponsored by:

Theatre