Field Guide for Luso-Hispanic Studies
–
McCardell Bicentennial Hall 216
276 Bicentennial Way
Middlebury, VT 05753
View in Campus Map
Closed to the Public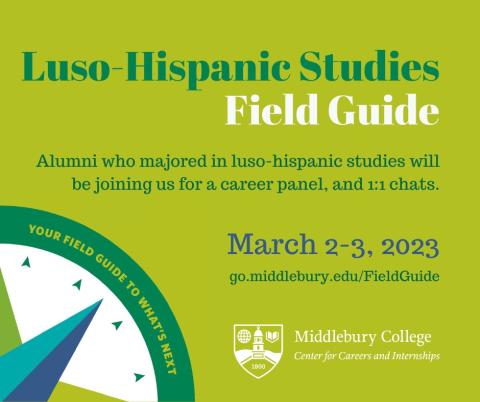 Meet alumni, build your network, and learn how to go from campus to career in one great event!
Presented by the Center for Careers and Internships and co-sponsored by the Neuroscience department, this Field Guide brings alumni back to campus to share knowledge and experience related to their post-Middlebury careers and professional lives.
You DON'T have to be a major to attend and all class years are welcome!
Join us for the panel discussion to hear how our panel of alumni went from campus to career.
Confirmed panelists include:
Carlos Beato Urena '07, Co-Director at Next Generation Learning Challenges
Kelly Bennion '10, Associate Professor of Psychology at California Polytechnic State University, San Luis Obispo
Reid Porter '01, Senior Director at PhRMA
Cooper Couch '15, Physician Associate
Please register via Handshake.
Sponsored by:

Center for Careers & Internships