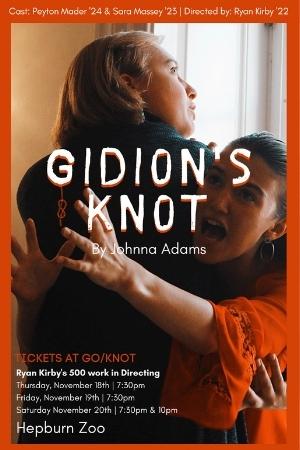 Over the course of a parent-teacher conference, a grieving mother and an emotionally unsteady elementary school teacher have a volatile interaction about the tragic suicide of the mother's son, Gidion. As his story is slowly uncovered, the women deal with feelings of guilt and shock, culminating in a conclusion that neither want to face.
This project is the final performance of Ryan Kirby's 500 Independent Project in Directing. Performed by Peyton Mader '24 and Sara Massey '23. Directed by Ryan Kirby '22. Tickets available at the box office or at go/knot.
CONTENT WARNING: Deals with themes of suicide, child neglect, rape, and death. These themes are not taken lightly, and we encourage thoughtful discussion about them. 
Sponsored by:

Theatre