A Global Call to Heal the Planet
–
Mahaney Arts Center, Olin C. Robison Concert Hall
72 Porter Field Road
Middlebury, VT 05753
View in Campus Map
Open to the Public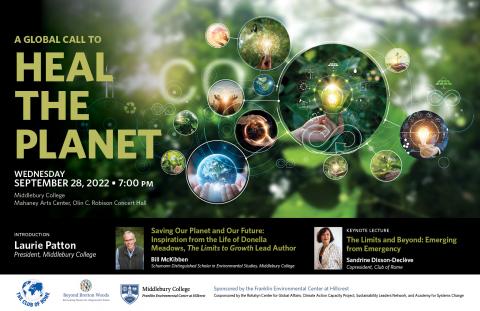 What are the global limits to sustainable growth and development? Can we stay within them and how? Join a special evening of reflection on our common future, insights gained from a landmark publication, and a celebration of the life and wisdom of Donella Meadows, a beloved pioneer in the effort to heal our planet. 
The program includes special guests Sandrine Dixson-Declève, Co-President of The Club of Rome, which published an early call to action with "The Limits to Growth" in 1972 and an update in 2022; Bill McKibben, Schumann Distinguished Scholar in Residence at Franklin Environmental Center, and an introduction by Middlebury's President Laurie Patton.  Students Olivia Reposa '24 and Dylan Taylor '24 will moderate the Q&A.
We hope to see you in person, but joining by Zoom is also possible by registering right here. 
Sponsored by Franklin Environmental Center at Hillcrest, cosponsored by Rohatyn Center for Global Affairs, Climate Action Capacity Project, Sustainability Leaders Network, and Academy for Systems Change
Sponsored by:

Rohatyn Center for Global Affairs; Environmental Affairs