GlobeMed's 80's Zoom Mystery!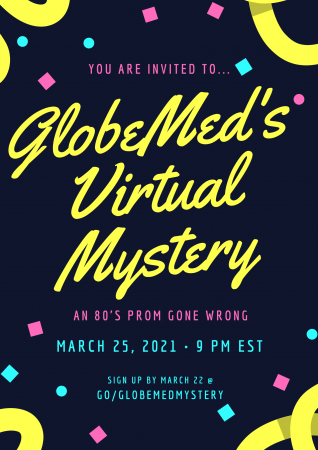 Join GlobeMed for a night of mullets and mystery. Prom night is scheduled for Thursday, March 25th at 9pm EST. This is a virtual event, and all are welcome to join in on the fun!

Go back in time to high school, where the students of Mayhem High find themselves battling it out over grades, popularity, affection, and class rankings…

As the night unfolds, the royalty will be rewarded and an innocent life will be claimed - all are suspected although only one is to blame. Can you find the culprit in this crazy madness?

Sign up below to be assigned a character and receive the Zoom link! It's going to be a totally tubular hour!
Sponsored by:

GlobeMed