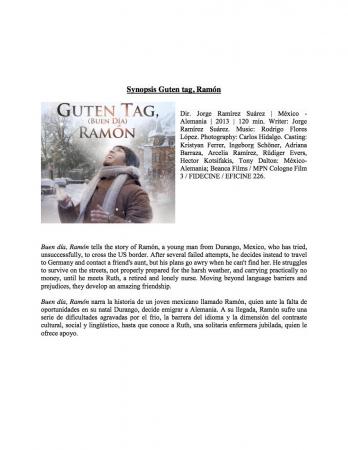 Buen día, Ramón tells the story of Ramón, a young man from Durango, Mexico, who has tried, unsuccessfully, to cross the US border. After several failed attempts, he decides instead to travel to Germany and contact a friend's aunt, but his plans go awry when he can't find her. He struggles to survive on the streets, not properly prepared for the harsh weather, and carrying practically no money, until he meets Ruth, a retired and lonely nurse. Moving beyond language barriers and
prejudices, they develop an amazing friendship.
"Guten Tag, Ramon" was selected to represent Mexico at the XX Ibero American Film Festival in Boston University, last October. It premiered at the Morelia International Film Festival and has since been exhibited in several Festivals around the world. It was nominated to the Ariel Movie Awards (Mexico) as the best picture and has won several was seven "Diosas de Plata" including best picture and best director in 2015.
Sponsored by:

Alianza Latinoamerica Y Caribeña