Hip Hop: The Art of Creating Community S.A.G.E. (Styles Advancing Graffiti's Evolution)
–
Adirondack Coltrane Lounge
534 College Street
Middlebury, VT 05753
View in Campus Map
Closed to the Public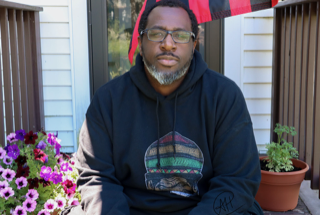 S.A.G.E. (Styles Advancing Graffiti's Evolution)
Before urban fashion brands became a multi-billion dollar industry and synonymous with the fashion world, urban youth designed and created t-shirts, jackets, hats, etc with markers, paint and pure imagination utilizing graffiti aesthetics. This interactive workshop will explore the history of Graffiti writing/art and its evolution into Street Art and influence on urban fashion. Participants will learn how to design and customize t-shirts utilizing a variety of media and techniques inspired by graffiti aesthetics.
Facilitator: Will Kasso Condry is a renowned visual artist, graffiti scholar, and educator. He studied fine art and illustration at The College of New Jersey as a first-generation college student. He furthered his education in the art of aerosol painting with the mentorship of legendary graffiti artist Daniel "Pose 2" Hopkins and refined his artistry in large-scale mural production under Dave McShane at Mural Arts Philadelphia.
Will has taught courses on the origins and politics of Graffiti and Street Art and the elements of Hip-Hop culture at Middlebury College, and he has taught elementary school classes on the art of illustration, puppet making, and mural painting. For over 20 years, he has worked with young people through a variety of community organizations including the Boys & Girls Club and his former non-profit organization SAGE Coalition. In 2015, he received the Certificate of Special Congressional Recognition for Service to the Community. He has served as the Artist-in-Residence at several higher educational institutions, including Princeton University and Middlebury College, where he completed extensive mural and portrait work at the Anderson Freeman Resource Center and led the community mural projects at McCullough Student Center. Will was awarded the inaugural 2022 Vermont Prize, which "celebrates and supports the best visual art being made in Vermont today." He is currently on the Board of Trustees for the Vermont Arts Council. Will is co-founder of Juniper Creative Arts, a Vermont-based Black and Dominican family collective with a mission-driven practice of creating art that celebrates the lives and stories of the African Diaspora. They facilitate creative place-making to foster community-building, sense of belonging, and healing
Sponsored by:

Office of Institutional Diversity Equity & Inclusion