Land Trust Innovation in Service to Changing Urban Community Needs
–
Franklin Environmental Center, The Orchard-Hillcrest 103
531 College Street
Middlebury, VT 05753
View in Campus Map
fREE
Open to the Public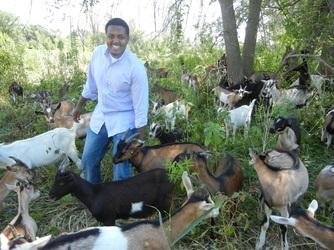 Locally-sourced lunch will be served - please email gogreen@middlebury.edu to RSVP if you plan to attend.
Land trusts across America are engaged in new approaches to land protection, redevelopment and management in service to urban communities.
Conservation attorney Jessica Jay will describe this evolving work of developing new approaches within the land trust community, their focus on new constituencies and different tools, and the effort of many organizations to better understand community dynamics and how those dynamics are at play in serving diverse populations.
Gil Livingston, President of Vermont Land Trust, will ground the discussion in a Vermont example: how Pine Island Farm, located on Burlington's urban fringe, has been transformed from a conventional dairy into a goat and vegetable farm operated by and for the refugee community, and how this transition is trying to address flood resilience and land management in a changing climate, while focusing on the food security needs of New Americans by using land trust tools and resources. Some of the many countries represented by farmers and customers at the farm are Bhutan, Rwanda, Burundi, Somalia, Congo and Burma.
This event is part of Franklin Environmental Center's yearlong exploration of the theme Urban Innovations, Sustainable Solutions - http://www.middlebury.edu/sustainability/academics-and-research/frankli…
Sponsored by:

Environmental Affairs