–
Mahaney Arts Center, Olin C. Robison Concert Hall
72 Porter Field Road
Middlebury, VT 05753
View in Campus Map
Open to the Public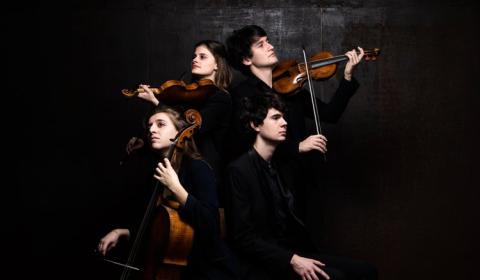 The Middlebury Performing Arts Series proudly presents Le Consort on their North American debut tour. Never heard music by Dandrieu, Merula, Guignon, or Elisabeth Jacquet de la Guerre?? Not to worry—Le Consort will introduce you to these unjustly neglected Baroque masters and more, in a program titled "Hidden Treasures of the Baroque."
This inquisitive ensemble of violins, cello, and harpsichord passionately seeks, performs, and records exceptional works by overlooked composers, delighting audiences with the thrill of new discoveries. In this program you will encounter virtuosic Italians, melancholic Brits, elegant French, and one of the first women to make a career as a composer.
"Audacity, brilliance, and sensual interpretation… Le Consort naturally finds moments of meditation, theater, dance, and jubilant virtuosity…—Diapason d'Or
Learn more about this concert's music in a free pre-concert lecture by Professor Emeritus of Music Larry Hamberlin, at 6:15 PM in MAC room 125.
Learn more about the artists: www.leconsort.com
Watch a video: https://youtu.be/dSVXoER1BNU
Program:
Andrea Falconieri: Follas echa para mi Señora Doña Tarolilla de Carallenos
Jean-François Dandrieu: Trio sonata in D Major op. 1 no 2
Nicola Matteis Junior: Fantasia
Matteis: Preludio in C solfaut–Andamento Sarabanda amorosa–Bore
Heinrich Biber: Passacaglia for solo violin
Giorgio Gentili: Trio Sonata in A Major op. 1 no. 1
Tarquinio Merula: Ciaccona
Marco Uccellini: Bergamasca
Elisabeth Jacquet de la Guerre: Sonate No. 1 in G minor
Jean-Pierre Guignon: Variations sur les sauvages
François Couperin: Premier Prélude de l'Art de toucher le clavecin
Pancrace Royer: Marche des Scythes
Giovanni Battista Reali: "La Follia" op.1 no. 12
Tickets: $25 general public | $20 Middlebury ID holders | $10 Youth (Under 21) | $5 Middlebury students. General admission. Approximate running time: 1 hour, 45 minutes, including one intermission. Buy tickets: http://go.middlebury.edu/tickets
Performance subject to change.
Sponsored by:

Performing Arts Series