Linguistic Development during Study Abroad: Research on a corpus of spoken learner Chinese
–
Virtual Middlebury
Open to the Public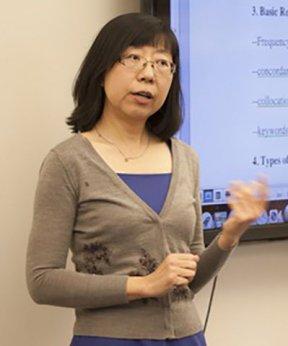 The RCGA International and Global Colloquium Series presents Hang Du, Middlebury professor of Chinese and her research on Friday, February 25, 2022 at 12:30 pm via zoom.
Research investigating the effect of study abroad on the development of grammatical accuracy has produced conflicting results. Using corpus linguistics research methods—yet to be used more extensively in Second Language Acquisition research—this study investigated students' acquisition of grammatical accuracy and lexical development during study abroad in China on data from a subgroup of 62 students in a corpus of over one million characters of transcribed spoken learner Chinese produced by 83 American college students who studied in China for a semester or academic year. Results show that the students made significant progress in their accuracy of using the perfective aspect marker le; they used more sophisticated vocabulary; and for the two words that mean "but" in English, they shifted from using the less frequent word keshì to the more frequent dànshì, towards the native norm. The significance of such research and pedagogical implications will be discussed.
Sponsored by the Rohatyn Center for Global Affairs, the International and Global Colloquium offers students, faculty, and staff the opportunity to learn about global and international research activities. Speakers include Middlebury College faculty and alumni, as well as other scholars and professionals in the global arena.
To join this webinar, use this Zoom link or visit the Rohatyn Center for Global Affairs events.
Sponsored by:

Rohatyn Center for Global Affairs