–
Mahaney Arts Center, Olin C. Robison Concert Hall
72 Porter Field Road
Middlebury, VT 05753
View in Campus Map
Tickets: $25/20/15/10/5
Open to the Public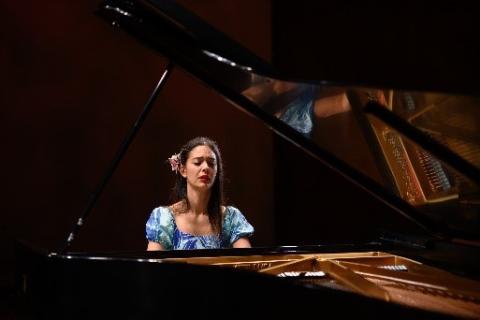 Award-winning pianist and humanitarian Mahani Teave is a pioneering artist who bridges the creative world with education and environmental activism. She is also the only professional classical musician on her native Rapa Nui (Easter Island). Her debut album, Rapa Nui Odyssey, reached number one on the Billboard charts and received raves from critics including BBC Music Magazine, which noted her "natural pianism" and "magnificent artistry." We're thrilled to be one of the handful of stops on her North American debut recital tour, with a program of works from her album.
Mahani Teave's passion for classical music, her local culture, and her Island's environment, along with an intense commitment to high-quality music education for children, inspired her to set aside her burgeoning career at the age of 30 and return to her Island to create the first School of Music and the Arts of Easter Island. The facility itself is a self-sustaining architectural wonder, made up entirely of recycled materials and using solar energy and water collectors. Her inspirational story was chronicled by 15-time Emmy Award-winning filmmaker John Forsen in the new documentary Song of Rapa Nui.
"Breadth and grandeur… heroic rhetoric and caressing lyricism… exquisitely poised… genuine eloquence. As fulfilling and enriching the musical culture of Rapa Nui surely must be, one hopes that Mahani Teave will somehow find a way to share her beautifully wrought, heartfelt pianism with audiences beyond her remote island."—Gramophone

Learn more about the artist. 
Watch a video.
Program:
Ancestral Rapa Nui/José Miguel Tobar: I he a Hotumatu'a
Alejandro Arevalo: Suite Rapa Nui
      E te 'ua Matavai
      Mai Hiva te 'Ariki
Frederic Chopin: Nocturne, op. 9, no. 1
Chopin: Etude, op. 10, no. 12
Chopin: Nocturne, op. 72, no. 1
Chopin: Barcarolle, op. 60 in F-sharp Major
Chopin: Scherzo No. 1 in B Minor, op. 20
Franz Liszt: Ballade No. 2 in B Minor
Sergei Rachmaninoff: Moment Musical, op. 16, no. 1
Rachmaninoff: Moment Musical, op. 16 no. 4
Tickets: $25 general public | $20 Middlebury ID holders | $10 Youth (Under 21) | $5 Middlebury students. General admission. Approximate running time: 90 minutes, no intermission. Buy tickets: http://go.middlebury.edu/tickets
Performance subject to change.
Sponsored by:

Performing Arts Series