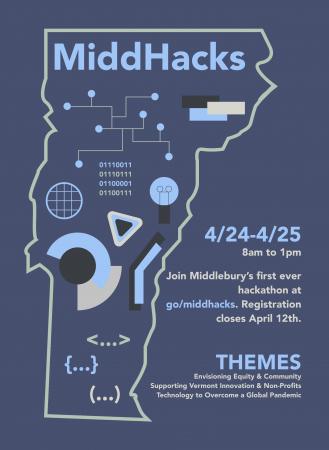 MiddHacks will be Middlebury College's very first annual hackathon hosted by the SGA Innovation & Technology Committee virtually on April 24-25, 2021. Registration closes on Friday April 16, 2021! A hackathon is an invention marathon where programmers, designers, and builders all come together to learn, build and share their creations. The 24-hour event is for anyone with an interest in technology and who is eager to develop some technical, design-thinking, and cross-collaboration skills either by attending workshops, building a project, or both. Students can choose to work in teams of 3-5 to create a technical project related to one of the three following themes: 
   Supporting Vermont Innovation & Non-Profits
   Technology to Overcome a Global Pandemic
   Envisioning Equity and Community
We'll also have workshops, networking opportunities, prizes, games, and more available for anyone. Don't have a team or even an idea? Don't worry! We'll give you the tools to build something incredible. Have any other questions or want to sign up? Visit go/middhacks/!
Sponsored by:

SGA (Student Government Association)

Related URL: